Toilet Tycoon
NOTICE: Activation key must be used on a valid Steam account. Requires internet connection.
About The Game
How would you like to be in a line of business that's totally crisis proof? You can see for yourself that money doesn't stink as a MANAGER of pay toilets!
When you start up as a toilet cleaner, you will need to make sure that your SEED CAPITAL of 500,000 euros is wisely invested. Therefore, you purchase your first allotment and equip it with only what is absolutely necessary: basic model toilets and paper...
But that's just the beginning; with competitors that never sleep and the escalating tastes of your customers, you will need INNOVATIONS to increase profits. Next stop: Golden bowls, silk toilet tissue and seats with handy cup holders.
Your goal is to monopolize every john in town and rake in the DOUGH on your way to becoming a total "Toilet Tycoon"!
KEY FEATURES
Choose from a wide variety of components to create the most outrageous toilets imaginable!
Research new technologies that will make your customers want to buckle up before they flush!
Have saboteurs trash other people's toilets and send in the authorities to take them down!
Spy on the facilities of your rivals and spread vicious rumors to chase their customers away!
Required Configuration
Windows - Minimum
Windows 95/98/Me/2000/XP/Vista/7
16 MB of physical RAM
25 MB of free hard disk space
Pentium 100 MHz
1 MB of video memory
Screen resolution of 800 x 600
16 or 32 bit color depth
DirectX 7.0 or higher
Required configuration
Windows - Minimum
Windows 95/98/Me/2000/XP/Vista/7
16 MB of physical RAM
25 MB of free hard disk space
Pentium 100 MHz
1 MB of video memory
Screen resolution of 800 x 600
16 or 32 bit color depth
DirectX 7.0 or higher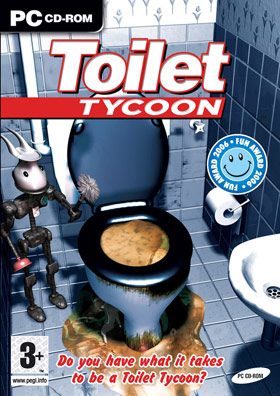 Language:

English

Genre:

Platform:

Vista Win XP Win 7 32/64 bits Win 2000 Win 98 Win Me Win 95

Number of players:

1+

Release date:

2000-03-01

Publisher