Furi
NOTICE: Activation key must be used on a valid Steam account. Requires internet connection.
About the game
You were captured. Look what they've done to you… The jailer is the key, kill him and you'll be free.
Fight your way free in this ultra-responsive, fast-paced sword fighting and dual-stick shooting game.
Boss design by Takashi Okazaki. Original soundtrack by Carpenter Brut, Danger and more!
Key Features
Furi is a boss-fight game designed to challenge your skills against a wide variety of unique bosses.


Furi is about you, the hero, regaining your freedom. While you piece the story together it raises questions on what's worth fighting for.


Character design by Afro Samurai's creator Takashi Okazaki


Electro soundtrack with all original creations by Carpenter Brut, Danger, The Toxic Avenger, Lorn, Scattle, Waveshaper and Kn1ght.


Furi offers a simple set of controls: shoot, slash, parry and dodge, and they can be charged. Furi's depth comes from the player's skill learning how best to apply their powers against the varied bosses. Your timing, reflexes, and execution will determine how you fare against each one.


Furi is a game that requires skills and reflexes. No button mashing or combo learning. You need to wait for your adversary to show an opening to fight back (parry/dodge and then punish).


Furi's default difficulty is "Furi" mode. Beat the game in Furi mode, and you'll unlock


Furier difficulty (hardcore). Beat it in Furier, you'll unlock a Speedrun mode (compete against time or number of hits - with leaderboards).
System Requirements
Windows - Minimum
OS: Windows 7, 8, 10
Processor: Intel Core i3 / AMD Phenom II X4
Memory: 4 GB RAM
Graphics: GeForce GTX 650 / AMD R7 250 (1GB VRAM min) (for 720p 60FPS)
Storage: 5 GB available space
Additional Notes: Controller mandatory
Required configuration
OS: Windows 7, 8, 10
Processor: Intel Core i3 / AMD Phenom II X4
Memory: 4 GB RAM
Graphics: GeForce GTX 650 / AMD R7 250 (1GB VRAM min) (for 720p 60FPS)
Storage: 5 GB available space
Additional Notes: Controller mandatory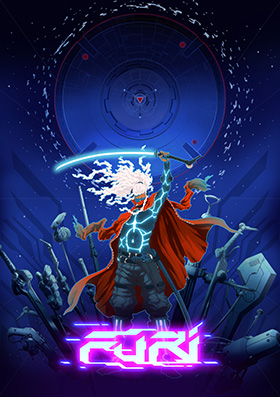 Language:

English

Genre:

Platform:

Win 7 32/64 bits Win 8 32/64 bits Win 10 32/64 bits

Number of players:

1

Release date:

2016-09-28

Publisher