Majesty 2 Collection
NOTICE: Activation key must be used on a valid Steam account, requires internet connection.
MAJESTY 2 COLLECTION
---
Majesty 2 Collection includes:
Majesty 2: The Fantasy Kingdom Sim
Kingmaker
Battles of Ardania
Monster Kingdom
ABOUT THE GAME
---
In the world of Majesty, you are the ruler of the Kingdom. Your rule is not absolute, however, as you face subjects that are independent and stubborn. They will need a great deal of persuasion before they carry out your wishes.
KEY FEATURES
---
Real-time strategy with indirect control – your heroes have a will of their own


Build the ultimate fantasy kingdom and experience an engaging world, but beware: monsters are waiting to lay siege to your domain


Defend your realm with noble warriors, spell-wielding wizards, or wild barbarians


Extra content included that was not part of the expansions


GameSpy multiplayer for up to 4 players over LAN or Internet


Included is the Kingmaker game editor which enables players to create and play their own missions
SYSTEM REQUIREMENTS
---
OS: Windows 2000/XP/Vista
Processor: 2GHz dual core processor
Memory: 1 Gb RAM
Graphics: Videocard 512 Mb, PS 2.0, better thanGeForce 6800 GTX
Sound: DirectX-compatible sound card
Hard Drive: 4 Gb free hard disc space
DirectX 9.0
Keyboard, Mouse
Required configuration
OS: Windows 2000/XP/Vista
Processor: 2GHz dual core processor
Memory: 1 Gb RAM
Graphics: Videocard 512 Mb, PS 2.0, better thanGeForce 6800 GTX
Sound: DirectX-compatible sound card
Hard Drive: 4 Gb free hard disc space
DirectX 9.0
Keyboard, Mouse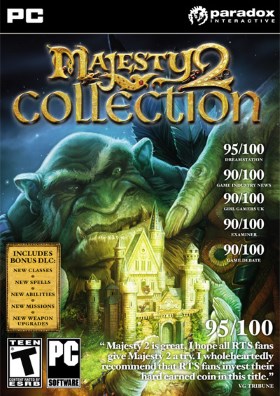 Language:

English

Genre:

Platform:

Number of players:

1 - 4

Release date:

2011-04-19

Publisher