WRC 10 FIA World Rally Championship Deluxe Edition
WRC 10 FIA World Rally Championship Deluxe Edition
NOTICE: Activation key must be used on a valid Steam account. Requires internet connection.
Deluxe Edition
Items included in this package:
Base game
Historic Event (Mitsubishi Lancer Evo V 1998)
Career Starter Pack
Panzerplatte SSS Arena
WRC+ Access for 3 months
About The Game
To celebrate the 50th anniversary of the championship, WRC 10 is offering a brand-new Anniversary edition, packed with new content and sensations. Relive the most intense moments from 1973 to today! WRC 10 History Mode puts your driving talents to the test through 19 historical events that require you to adapt to racing conditions of each time period.
Never-before-seen content for WRC:
The 4 new 2021 rallies: Estonia, Croatia, Belgium and Spain
6 historic rallies including Acropolis, San Remo, Germany and Argentina
120 special stages
52 official teams from the 2021 season (WRC, WRC2, WRC3, Junior WRC),
20 legendary cars from Alpine, Audi, Lancia, Subaru, Ford, Mitsubishi, Toyota, and more...
Career Mode, unanimously hailed as one of the best-developed and most complete in a racing game, has also been comprehensively upgraded and now includes a livery editor, so you can create your own team and add your colours to contemporary cars!
With a hyper-realistic and ultra-precise physics engine, WRC 10 has made the feeling of driving even better, with better aerodynamic force, turbo and braking management, on all surfaces. The sound design has also been revamped to reinforce the immersion.
A particularly competitive eSport, with daily and weekly challenges, and clubs so you can create your own competitions, drivers can measure themselves against the community at their own levels.
System Requirements
Windows - Minimum
Requires a 64-bit processor and operating system
OS: Windows 10
Processor: Intel Core i5-2300 or AMD FX-6300
Memory: 8 GB RAM
Graphics: NVIDIA GeForce GTX 650 Ti, 2 GB or AMD Radeon HD 7790, 2 GB
DirectX: Version 12
Windows - Recommended
Requires a 64-bit processor and operating system
OS: Windows 10
Processor: Intel Core i7-4790k or AMD Ryzen 5 2600
Memory: 6 GB RAM
Graphics: NVIDIA GeForce GTX 1070, 8 GB or AMD Radeon RX Vega 56, 8 GB
DirectX: Version 12
FIA World Rally Championship ©2020 Published by Nacon and developed by KT Racing. An official product of the FIA World Rally Championship, under licence of WRC Promoter GmbH and the Fédération Internationale de l'Automobile. Manufacturers, vehicles, names, brands and associated imagery featured in this game are trademarks and/or copyrighted materials of their respective owners. All rights reserved. Warning: This is a virtual game and not real life. Be cautious, do not imitate the vehicle movements shown in this game when you are driving a car in real life. Remember: drive safely!
Required configuration
Windows - Minimum
Requires a 64-bit processor and operating system
OS: Windows 10
Processor: Intel Core i5-2300 or AMD FX-6300
Memory: 8 GB RAM
Graphics: NVIDIA GeForce GTX 650 Ti, 2 GB or AMD Radeon HD 7790, 2 GB
DirectX: Version 12
Windows - Recommended
Requires a 64-bit processor and operating system
OS: Windows 10
Processor: Intel Core i7-4790k or AMD Ryzen 5 2600
Memory: 6 GB RAM
Graphics: NVIDIA GeForce GTX 1070, 8 GB or AMD Radeon RX Vega 56, 8 GB
DirectX: Version 12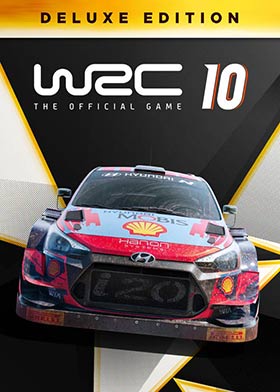 Language:

English

Genre:

Platform:

Win 7 64 bits Win 8 64 bits Win 8.1 64 bits Win 10 64 bits

Number of players:

1+

Release date:

2021-09-02

Publisher