Surviving the Aftermath
NOTICE: Activation key must be used on a valid Steam account. Requires an internet connection.
About the game
Survive and thrive in a post-apocalyptic future — resources are scarce but opportunity calls. Build the ultimate disaster proof colony, protect your colonists, and restore civilization to a devastated world.
Go beyond the colony and explore the wastelands to gather resources, meet rival colonies, and fight off bandits.
Key features
No Place Like Home

Build and manage a colony of survivors after a world-ending event. Construct more than 61 unique buildings to handle everything from resource collection and farming to exploration and security.

Surviving Earth

Explore a vast procedurally generated world featuring six different biomes filled with resources, wildlife, rival societies and more. Each environment has different conditions that affect your colony's survival. Stay vigilant: Natural disasters, dangerous animals, and bandits will put your survivors to the test.

Survival is my Specialty

Recruit over 80 unique Specialists, each with their own skills and motivations, to manage your colony's resources and production. Send them beyond the Gate on scientific missions, scavenger runs, and to fight bandits.

Expect the Unexpected

Life in the aftermath requires you to make moral choices. You may not be able to control everything in your colony, but how you respond to situations and emergent events will shape the character of your new civilization.

Reputation Management

Every decision can have dire consequences on your colony's survival. Your reputation with other societies will affect your ability to trade and can even affect your relationship with their leaders. Colonists have a mind of their own and will react to your choices.

Defend the Gate

Fortify your gates and protect your colony from rampaging animals and deadly bandits. Enemies who breach the gate will pour into your colony, wreaking havoc on everything in their wake. Take command of your specialists and drive the invaders back.

Mods

Surviving the Aftermath players can bring their own visions to life using Steam Workshop.
system requirements
Windows - Minimum
Requires a 64-bit processor and operating system
OS: Windows® 10 Home Premium 64 bit
Processor: Intel® iCore™ i5-2500K or AMD® Phenom™ II X6 1090T
RAM: 4 GB RAM
Graphics card: Nvidia® GeForce™ GTX 580 or AMD® Radeon™ HD 7870
DirectX: Version 11
HDD: 4 GB available space
Windows - Recommended
Requires a 64-bit processor and operating system
OS: Windows® 7 Home Premium 64 bit SP1
Processor: Intel® iCore™ i5-3570K or AMD® Ryzen™ 3 2200G
RAM: 8 GB RAM
Graphics card: Nvidia® GeForce™ GTX 760 or AMD® Radeon™ R9 380
DirectX: Version 11
HDD: 4 GB available space
© 2020 Paradox Interactive AB, SURVIVING THE AFTERMATH, and PARADOX INTERACTIVE are trademarks and/or registered trademarks of Paradox Interactive AB in Europe, the U.S., and other countries. Developed by ICEFLAKE STUDIOS. All other trademarks, logos, and copyrights are property of their respective owners.
Required configuration
Windows - Minimum
Requires a 64-bit processor and operating system
OS: Windows® 10 Home Premium 64 bit
Processor: Intel® iCore™ i5-2500K or AMD® Phenom™ II X6 1090T
RAM: 4 GB RAM
Graphics card: Nvidia® GeForce™ GTX 580 or AMD® Radeon™ HD 7870
DirectX: Version 11
HDD: 4 GB available space
Windows - Recommended
Requires a 64-bit processor and operating system
OS: Windows® 7 Home Premium 64 bit SP1
Processor: Intel® iCore™ i5-3570K or AMD® Ryzen™ 3 2200G
RAM: 8 GB RAM
Graphics card: Nvidia® GeForce™ GTX 760 or AMD® Radeon™ R9 380
DirectX: Version 11
HDD: 4 GB available space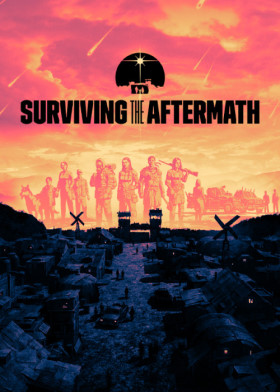 Language:

English

Genre:

Platform:

Win 7 64 bits Win 8.1 64 bits Win 10 64 bits

Number of players:

1

Release date:

2021-11-16

Publisher