Konung 3: Ties of the Dynasty
Konung 3: Ties of the Dynasty
NOTICE: Activation key must be used on a valid Steam account. Requires internet connection.
About the game
Konung III: Ties of the Dynasty is an RPG based on the Scandinavian and Slavic mythology. It is the third game in the Konung series (Konung: The Legend of North and Konung 2: Blood of Titans).
This new game brings the player back to the legendary Woodland – the unique and large fantasy land. Woodland combines actual history with classical myths of the Slavs, the Scandinavians and the Byzantines. The story also includes the legends of the Chronicles including immortal heroes, magical artifacts and a world of ancient sorcery.
The Era of Titans, the almighty rulers of the Earth, has ended. Once glorious heroes and great Princes are gone for ever. The hour of new heroes has come, when the throne of the Grand Principality becomes empty. Valiant warriors and adventurers have started their fight for the title, and only the legendary artifact "Champion Sword" can resolve the face-off.
Get the artifact, become the Konung and write a new history for the Woodland!
Key Features
Immersive atmosphere of the Woodland, recreated using the state-of-the-art 3D graphics
Revised combat system with unique parameters for all combat items.
New RPG skills
Improved dialog visualization system which includes mimics and gesticulation
Possibility of characters' interaction with various objects
Creation of unique types of weapons and armor using magic potions
Updated and considerably enhanced battle magic
Improved possibilities to control and protect player-dependent settlements
System Requirements
Windows - Minimum
OS: Windows XP/Vista
CPU: Intel Pentium 1.5 GHz
RAM: 512 MB
VGA: NVIDIA GF4 Ti4200 or ATI Radeon 7900 with 128 MB
HDD: 1 GB free HD space
Sound: DirectX 9.0 compatible
Windows - Recommended
OS: XP / Vista
CPU: 2.4 GHz
Memory: 1 GB
GPU: GeForce FX6800 / Radeon 9800 256 MB
HDD: 1 GB free HD space
Sound: DirectX 9.0 compatible
Required configuration
Windows - Minimum
OS: Windows XP/Vista
CPU: Intel Pentium 1.5 GHz
RAM: 512 MB
VGA: NVIDIA GF4 Ti4200 or ATI Radeon 7900 with 128 MB
HDD: 1 GB free HD space
Sound: DirectX 9.0 compatible
Windows - Recommended
OS: XP / Vista
CPU: 2.4 GHz
Memory: 1 GB
GPU: GeForce FX6800 / Radeon 9800 256 MB
HDD: 1 GB free HD space
Sound: DirectX 9.0 compatible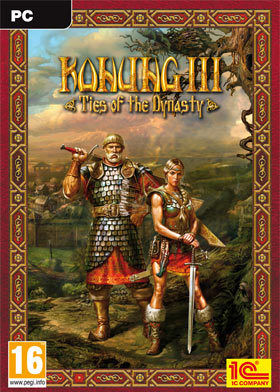 Language:

English

Genre:

Platform:

Number of players:

1

Release date:

2010-05-01

Publisher