Baldur's Gate: Enhanced Edition
Baldur's Gate: Enhanced Edition
NOTICE: Activation key must be used on a valid Steam account. Requires internet connection.
Intel graphics chipsets are NOT supported
ABOUT THE GAME
---
Since its initial release in 1998, Baldur's Gate has entertained millions of fans around the globe and has received countless awards. This classic saga of mystery, intrigue, and adventure has set the standard for Dungeons & Dragons™ computer roleplaying games ever since.
Running on an upgraded and improved version of the Infinity Engine, Baldur's Gate: Enhanced Edition™ includes the entire Baldur's Gate adventure, the Tales of the Sword Coast expansion pack, and never-before-seen content including a new adventure and three new party members: the Calishite monk Rasaad yn Bashir, Neera the wild mage, and Dorn Il-Khan, the evil blackguard.
KEY FEATURES
---
New Adventure: The Black Pits
New Character: Dorn Il-Khan
New Character: Neera the Wild Mage
New Character: Rasaad yn Bashir
A new collection of player character voice sets
Native support for high-resolution widescreen displays
Over 400 improvements to the original game
Improved multiplayer support with connectivity between all platforms
SYSTEM REQUIREMENTS
---
Minimum:
OS: Windows XP, Vista, 7, 8
Processor: 1 GHZ
Memory: 512 MB RAM
Graphics: OpenGL 2.0 compatible (Intel graphics chipsets are NOT supported)
Hard Drive: 2 GB HD space
Sound: Windows Compatible
---
© 2012 Overhaul Games, a division of Beamdog. © 2012 Hasbro, Inc. All Rights Reserved. Baldur's Gate, Dungeons & Dragons, D&D, the Forgotten Realms, Baldur's Gate, Wizards of the Coast and their logos are trademarks of Wizards of the Coast LLC in the U.S.A. and other countries, and are used with permission. Hasbro and its logo are trademarks of Hasbro, Inc. and are used with permission. © 1998 BioWare Corp. All Rights Reserved. BioWare, the BioWare Infinity Engine and the BioWare logo are trademarks of Bioware Corp. Black Isle Studios and the Black Isle Studios logo are trademarks of Interplay Entertainment Corp. Atari and the Atari logo are trademarks owned by Atari Interactive, Inc. All other trademarks are the property of their respective owners.
Required configuration
OS: Windows XP, Vista, 7, 8
Processor: 1 GHZ
Memory: 512 MB RAM
Graphics: OpenGL 2.0 compatible (Intel graphics chipsets are NOT supported)
Hard Drive: 2 GB HD space
Sound: Windows Compatible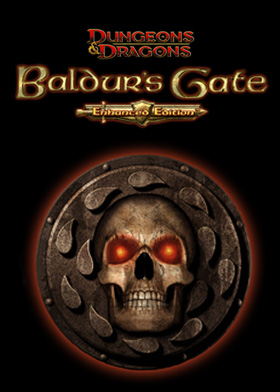 Language:

English

Genre:

Platform:

Vista 32/64 bits Win XP Win 7 32/64 bits Win 7 32 bits Win 8 32/64 bits Win 8 32 bits

Number of players:

1+

Release date:

2013-01-16

Publisher