World War One - Centennial Edition
NOTICE: Activation key must be used on a valid Steam account. Requires internet connection.
ABOUT THE GAME
---
World War 1 Centennial Edition is the latest and improved edition of 2008's release World War One, the ambitious game covering all of the Great War 1914 to 1918.
New features:
Graphically:
Game has a new look showing the elevations and trees better.
All leaders portraits recreated in colour from historical picture
All units portraits have been redone
Content
New 1917 scenario, all theaters included.
More accurate OOBs
New Intro Video
New Engine Improvements:
Much faster engine (x5), compatible with Windows 8 and Windows 7
Dynamic display of weathers (rain and snow) Enlarged screen resolution to accommodate latest PC standards
Better handling of sprites and description of moves
More AI improvements making the game much more challenging
All fixes as received from players since 2008, to improve game play and experience, and previous changes since game launch included in both versions
KEY FEATURES
---
The game is played in alternating phases of giving orders followed by simultaneous execution, with an original three-modes turn-base resolution


A large selection of Scenarios (10) and Campaigns (6)


8 playable major nations, dozens of different troops, planes and ships, hundreds of military, economic, political and technological events, over 200 historical leaders with unique abilities


An original diplomatic system, with your ambassadors to send all over the world to alter the balance of power between the Entente (i.e. Allies) and the Central Powers


Organize armies, manage supply, produce munitions, recruits and new weapons, use sea and rail moves, and put the best leaders in command (if politics allows), take care of your nation's will to fight!


Break the trench warfare deadlock by pursuing technological research or fighting the economic blockade


Play secret stratagems to influence the course of events with famous characters like Lawrence of Arabia, Mata Hari, Lenin or the Red Baron


Fight for victory: it can be military or political, as national will, population morale and parliament all play a crucial role.


Playable via LAN or over the Internet in multiplayer mode
SYSTEM REQUIREMENTS
---
Operating system: Windows 7/8 (Does not support 98 or 2000)
Processor: Pentium® IV 1800+ MHz
Memory: 2048 Mo RAM
Hard disk space: 4Gb free on hard disk
Video: 256 Mo DirectX 9.0c
Sound: DirectX 9.0c compatible sound card
DirectX®: DirectX 9.0c or more
Controller support: 3-button mouse, keyboard and speakers
Special multiplayer requirements: Internet Connection for multiplayer
Required configuration
Operating system: Windows 7/8 (Does not support 98 or 2000)
Processor: Pentium® IV 1800+ MHz
Memory: 2048 Mo RAM
Hard disk space: 4Gb free on hard disk
Video: 256 Mo DirectX 9.0c
Sound: DirectX 9.0c compatible sound card
DirectX®: DirectX 9.0c or more
Controller support: 3-button mouse, keyboard and speakers
Special multiplayer requirements: Internet Connection for multiplayer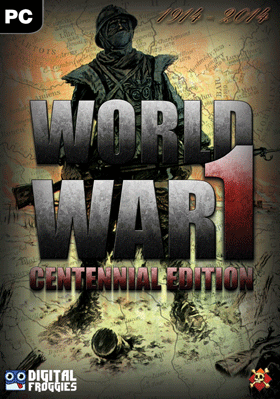 Language:

English

Genre:

Platform:

Win 7 32/64 bits Win 8 32/64 bits

Number of players:

1

Release date:

2014-07-01

Publisher