Sudden Strike Gold
NOTICE: Activation key must be used on a valid Steam account. Requires internet connection.
Gold Edition
Sudden Strike
Sudden Strike Forever (Add-on)
Sudden Strike Total War (Map pack)
About The Game
Set in World War 2, Sudden Strike offers revolutionary real-time-strategy gameplay. Command Russian, German, French, American and British armies in large scale battles including urban warfare, beach landings and aerial invasions. Whichever tactics you choose, you will find it in Sudden Strike!
Key Features
Up to 1000 units per scenario including historically accurate tanks, artillery, infantry and aircraft
Gigantic maps offer unparalleled strategic depth and tactical choices
Destructable terrain, bridges, houses, fortifications and trees
Build fortifications and pontoon bridges
Contains the original RTS classic "Sudden Strike", "Sudden Strike Forever" add-on and "Total War" map pack
Contains map editor
System Requirements
Windows - Minimum
OS: Windows XP 32-bit
Processor: Intel or AMD 2Ghz Dual-Core CPU
Memory: 1 GB RAM
Graphics: DirectX 9.0c hardware compatible, 256 MB RAM
DirectX: Version 9.0c
Storage: 1 GB available space
Required configuration
Windows - Minimum
OS: Windows XP 32-bit
Processor: Intel or AMD 2Ghz Dual-Core CPU
Memory: 1 GB RAM
Graphics: DirectX 9.0c hardware compatible, 256 MB RAM
DirectX: Version 9.0c
Storage: 1 GB available space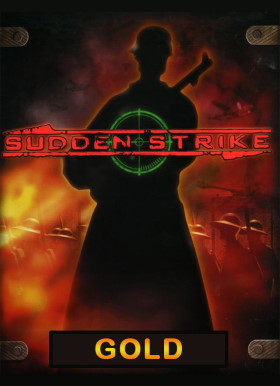 Language:

English

Genre:

Platform:

Number of players:

1

Release date:

2001-01-24

Publisher