Port Royale 3 Gold Edition
NOTE : Activation key must be used on a valid Steam account, requires internet connection.
GOLD Edition
Port Royale 3
DLC 1 Harbour Master
DLC 2 Dawn Of Pirates
DLC 3 New Adventures
About the game
Port Royale 3 – Gold Edition contains the full version of the multiple award-winning strategy game, Port Royale 3, as well as the official expansion pack, Treasure Island featuring an all new pirate campaign as well as the micro expansions 'Harbour Master' and 'New Adventures'.
Players will embark on an epic adventure through the Caribbean during the turbulent 17th Century where the naval powers of Spain, England, France and the Netherlands fight for supremacy in the colonies. Take on the role of a young captain trying to build his fortune and reputation in the new world colonies where three expansive campaigns offer three different paths for the young protagonist to follow: adventurer, trader and pirate.
For those eager to stretch their skills further there is the scenario mode where players will find several demanding challenges in the fields of trade, adventure and piracy. Additionally, following the successful completion of a scenario, each player will receive a score based on their performance, which can be compared to other Port Royale 3 players in the online rankings.
Key features
Three unique single-player campaigns: the trader's campaign, the adventurer's campaign and the pirate's campaign
Exciting naval battles, plundering and invasions await adventurous players, while immeasurable wealth and power are waiting for trade-oriented players
16 different ship types, such as the powerful Galleon or versatile Frigates
Huge gameplay map with 60 completely different towns, from Port-au-Prince to Tortuga
Competitive multiplayer mode for up to four players (PC version only)
A comprehensive trade system, with supply and demand dynamically setting the price of goods and wares, like in the real world
System Requirements
Windows - Minimum
OS: Windows XP SP2 / Vista / Windows 7 / Windows 8
Processor: Dualcore with 2 GHz+
Memory: 2 GB
Graphics: DirectX 9.0c compatible with 256 MB RAM
Hard Drive: 3 GB
Required configuration
OS: Windows XP SP2 / Vista / Windows 7 / Windows 8
Processor: Dualcore with 2 GHz+
Memory: 2 GB
Graphics: DirectX 9.0c compatible with 256 MB RAM
Hard Drive: 3 GB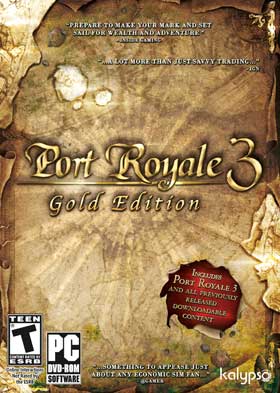 Language:

English

Genre:

Platform:

Vista Win 7 32/64 bits Win 8 32/64 bits Win XP SP2

Number of players:

1+

Release date:

2013-08-30

Publisher