Men of War: Vietnam Special Edition
NOTICE: Activation key must be used on a valid Steam account. Requires an internet connection.
Deluxe Edition
Items included in this package:
Content of the Special Edition: 3 multiplayer maps , 5 extra single player scenarios, the official soundtrack of the game.
About the game
Men of War: Vietnam is a new game for the critically acclaimed series.
The new, story-driven campaign lets you taste the explosive mix of the jungle, Hueys and rock-n-roll in 1968.
During this conflict the US troops were using not only new weapons, but new tactics as well. The war in Vietnam became the first military conflict where helicopters played a significant role, and this is one of the major features of this game.
The campaign is 10 missions and focuses on a team of elite special ops soldiers, and each one of them has a personality. The unit includes Sergeant John Merrill, machinegunner Jim Walsh, sniper Sonny Armstrong, grenade launcher operator Carl Dillan and combat engineer Bill Kirby. In some missions they can count only on themselves, while in the others they act together with regular US and South-Vietnamese troops.
Missions range from special operations (rescuing a shot-down pilot, escorting a reporter, etc.) to full scale battles.
Features
The new campaign tells the story of the US special ops team in the Vietnam War
Breathtaking missions including an ambush on the Ho Chi Minh trail, a game of cat and mouse in the Mekong Delta, raids into Cambodia and Laos, bridge defense during the Tet offensive and more
New weapons and units: M-16, T-54, M-113, Patton III, M-60, AK-47, M-14, RPG-2, M-72 LAW, RPK and many more
system requirements
Windows - Minimum
OS: Windows XP(SP1), Windows Vista or Window 7
Processor: P4 2.6GHz (Athlon 3000+)
RAM: 1 GB RAM
Graphics card: GeForce 6600 (Radeon 1950) 128Mb
HDD: 3 GB available space
DirectX: DirectX 9
Windows - Recommended
OS: Windows XP(SP1), Windows Vista or Window 7
Processor: Core 2 Duo 2.33GHz (Athlon X2 5000+)
RAM: 2 GB RAM
Graphics card: GeForce FX 8800 (Radeon HD3850) 256Mb
HDD: 3 GB available space
DirectX: DirectX 9
Required configuration
Windows - Minimum
OS: Windows XP(SP1), Windows Vista or Window 7
Processor: P4 2.6GHz (Athlon 3000+)
RAM: 1 GB RAM
Graphics card: GeForce 6600 (Radeon 1950) 128Mb
HDD: 3 GB available space
DirectX: DirectX 9
Windows - Recommended
OS: Windows XP(SP1), Windows Vista or Window 7
Processor: Core 2 Duo 2.33GHz (Athlon X2 5000+)
RAM: 2 GB RAM
Graphics card: GeForce FX 8800 (Radeon HD3850) 256Mb
HDD: 3 GB available space
DirectX: DirectX 9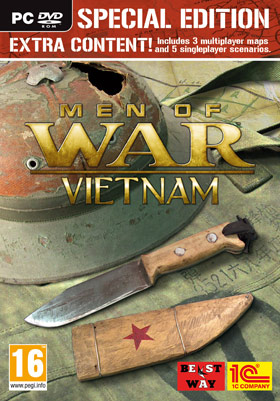 Language:

English

Genre:

Platform:

Vista 32/64 bits SP1 Win XP Win 7 32/64 bits

Number of players:

1+

Release date:

2010-09-09

Publisher