World of Subways 2 - Berlin Line 7
World of Subways 2 - Berlin Line 7
NOTICE: Activation key must be used on a valid Steam account. Requires internet connection.
About The Game
"World of Subways" is a series containing the most interesting subways of the world for the PC. After Vol. 1, Vol. 2 contains the route U7 of Berlin's subway. It takes you from Spandau to Rudow and is therefore the longest of all Berlin's subway routes. 30 kilometres length and 40 stations hold interesting tasks and many hours of fun playing it. As further products of this series, London Underground and Paris Metro are planned. Additionally, add-ons for each routes are going to be published.
Graphic:
The simulator is based on a modern 3D-engine which was optimized by TML-studios. Due to this it is possible to create a real-time lighting in the tunnel systems with numerous light sources. Possible motion: Blur creates a fascinating feeling of speed.
KEY FEATURES
3D - cockpit with pivoting camera
free movement possible throughout the train
free movement at the railroad station and beyond (within the add-ons)
realistic cab change at the terminus station
Excellent graphic with demolition sparks, reflecting headlight, night effects
Required Configuration
Windows - Minimum
Processor: Pentium IV Processer: 3,0 Ghz (DuoCore remommended)
OS: Microsoft Windwos XP/Vista 2 GB RAM
Graphics Card: 128 MB minimum GeForce 66xx or equal ATI - Graphics Card (256 MB recommended)
Download-Size: 770 MB
Installations-Size: 1.6 GB
Required configuration
Windows - Minimum
Processor: Pentium IV Processer: 3,0 Ghz (DuoCore remommended)
OS: Microsoft Windwos XP/Vista 2 GB RAM
Graphics Card: 128 MB minimum GeForce 66xx or equal ATI - Graphics Card (256 MB recommended)
Download-Size: 770 MB
Installations-Size: 1.6 GB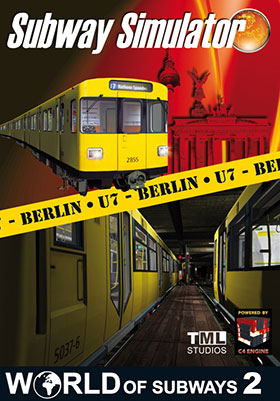 Language:

English

Genre:

Platform:

Number of players:

1

Release date:

2014-06-13

Publisher