Pure Farming 2018 - Digital Deluxe Edition
Pure Farming 2018 - Digital Deluxe Edition
NOTICE: Activation key must be used on a valid Steam account. Requires internet connection.
Digital Deluxe Edition
Digital Deluxe Edition includes:
Germany Map DLC
Landini Rex F DLC
Lindner Geotrac 134ep DLC
Gomselmash Palesse CS-200 DLC
Special Outfit Pack
Experience the global nature of modern farming in its entirety with Pure Farming 2018: Digital Deluxe Edition. Expand your game with the Germany Map featuring unique, region-specific activities: growing rapeseed and raising sheep. Get access to three additional, highly specialized machines and receive 4 special outfits for your in-game character. Go global and expand your farming empire across four continents!
About the game
FARMING GOES GLOBAL!
Use the latest technology and state-of-the-art licensed machines to manage all aspects of modern farming. Travel between Europe, Asia, and both Americas to plant region-specific crops such as hemp, coffee beans, and olives. Farm your way thanks to three unique game modes tailored to both simulation veterans and newcomers to farming games.
Key Features
All-In-One - Try your hand at almost every imaginable aspect of modern farming, such as animal husbandry, orchards, greenhouses, field cultivation, green energy and more.
100% Licensed Machines - Drive faithfully recreated farming vehicles from such industry leaders as Zetor, Landini, McCormick, Gregoire, DAF, Mitsubishi, and many more. Reproduced down to the smallest detail, including their weight and physics, the machines will offer a realistic, in-depth experience of running a modern farm.
Global Farming – Travel between your farms located in Italy, Colombia, Japan and Montana, USA. Grow unique region-specific crops and use dedicated machines never before seen in farming simulators, including the rice planter, hemp harvester and more.
Farming For Everyone – Three different games modes for different playstyles. Enjoy the freedom and challenge of running your own farm in Free Farming, learn the ins and outs of agriculture in My First Farm, or test your farming skills in objective-focused Farming Challenges.
Nature Is Beautiful – Admire the breath-taking landscapes of four continents and enjoy realistic, high-quality graphics.
Germany Map - Expand your global farming with the Germany Map for hours of additional gameplay. Run a new farm located in one of the most beautiful parts of Germany and try your hand at unique, region-specific activities: growing rapeseed and raising sheep.
System Requirements
Windows - Minimum
Requires a 64-bit processor and operating system
OS: Windows 10,8,7 (64 bit)
Processor: Intel Core I5 2,3 GHz
Memory: 4 GB RAM
Graphics: Geforce 560 GTX 2 GB
DirectX: Version 11
Storage: 5 GB available space
Windows - Recommended
Requires a 64-bit processor and operating system
OS: Windows 10,8,7 (64 bit)
Processor: Intel Core I7, 3,0 GHz
Memory: 8 GB RAM
Graphics: Geforce GTX 970 4 GB
DirectX: Version 11
Storage: 5 GB available space
Pure Farming 2018 © 2017 Techland Sp. Z O.O.. Published by Techland Publishing. Developed by IceFlames based on Unity Engine Technology. Pure Farming and Techland are trademarks or registered trademarks of Techland Sp. Z O.O
Required configuration
Windows - Minimum
Requires a 64-bit processor and operating system
OS: Windows 10,8,7 (64 bit)
Processor: Intel Core I5 2,3 GHz
Memory: 4 GB RAM
Graphics: Geforce 560 GTX 2 GB
DirectX: Version 11
Storage: 5 GB available space
Windows - Recommended
Requires a 64-bit processor and operating system
OS: Windows 10,8,7 (64 bit)
Processor: Intel Core I7, 3,0 GHz
Memory: 8 GB RAM
Graphics: Geforce GTX 970 4 GB
DirectX: Version 11
Storage: 5 GB available space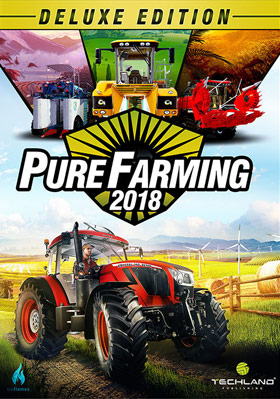 Language:

English

Genre:

Platform:

Win 7 64 bits Win 8 64 bits Win 10 64 bits

Number of players:

1

Release date:

2018-03-13

Publisher