OMSI 2 Downloadpack Vol. 6 - AI-People
OMSI 2 Downloadpack Vol. 6 - AI-People
NOTICE: Requires the base game OMSI 2 in order to play. Activation key must be used on a valid Steam account. Requires internet connection.
About the game
A New AI people pack is back for OMSI 2 and this time they bring new bus drivers!
The 6th part of the OMSI 2 Downloadpack series offers you not only new AI passengers who provide plenty of variety on your OMSI maps. But for the first time there are also new bus drivers who will drive your passengers carefully through everyday traffic in your OMSI Game.
The new AI passengers are available in over 70 different clothing variants. The new bus drivers wear the service clothing of various well-known public transport companies. They are also available for the cities of Hamburg (HVV), Berlin (BVG), Bremen (BSAG) and even London (London Public Transport). The new drivers can also be used as passengers.
Especially for this edition, over 200 language files in German and English were professionally recorded in the recording studio. The English passenger voices can, for example, be used on English-language maps in order to increase authenticity.
With the OMSI 2-Downloadpack Vol. 6 you will not only receive new passengers for your OMSI Maps, but also your buses will be driven by the new drivers.
NOTE:
For use on existing OMSI maps, the AI people of the OMSI Download Pack Vol. 6 must be manually integrated into the maps. Please follow the instructions.
For copyright reasons the distribution of the AI people of the OMSI2 download pack Vol. 6 individually or together with free maps is not permitted.
Key Features
10 new AI people for OMSI 2, including 5 bus drivers (2 women and 3 men) and 5 passengers (3 women and 2 men)
The new AI bus drivers can also be used as passengers
A total of 70 different variants
Bus drivers wear uniforms of different transport companies: BVG Berlin, BSAG Bremen, HVV Hamburg and London Transport Services
People wear different clothing and colour variations
Integration into commercial and your own OMSI maps possible
Professionally recorded speech output in German and English
Over 200 new language files
Correctly spoken ticket names for the OMSI extensions Vienna 1, Vienna 2, Gladbeck, Metropole Ruhr, Hamburg - day and night and Hamburg – Hafencity
Manual and tutorial videos in German and English included
System Requirements
Windows - Minimum
OS: Windows 7, Win 8.1
Processor: Dual-core e.g. Core i5 with 2.8 GHz or comparable
Memory: 4 GB RAM
Graphics: 3D graphics card with at least 1,024 MB
DirectX: Version 9.0c
Storage: 2 GB available space
Sound Card: Yes
Windows - Recommended
OS: Win 10 / 64bit
Processor: Quad-core with 3.0 GHz
Memory: 4 GB RAM
Graphics: 2,048 MB recommended
DirectX: Version 9.0c
Storage: 2 GB available space
Copyright © 2019 AEROSOFT. All rights reserved. All trademarks and brand names are trademarks or registered trademarks of the respective owners. Copyrights are serious stuff. If you find any pirated copies of this software please notify us. We will make sure reports of copyrights violation are rewarded.
Required configuration
Windows - Minimum
OS: Windows 7, Win 8.1
Processor: Dual-core e.g. Core i5 with 2.8 GHz or comparable
Memory: 4 GB RAM
Graphics: 3D graphics card with at least 1,024 MB
DirectX: Version 9.0c
Storage: 2 GB available space
Sound Card: Yes
Windows - Recommended
OS: Win 10 / 64bit
Processor: Quad-core with 3.0 GHz
Memory: 4 GB RAM
Graphics: 2,048 MB recommended
DirectX: Version 9.0c
Storage: 2 GB available space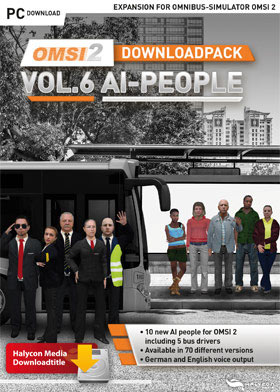 Language:

English

Genre:

Platform:

Win 7 32/64 bits Win 8.1 32/64 bits

Number of players:

1

Release date:

2019-04-03

Publisher