OMSI 2 Downloadpack Vol. 3 - KI-Menschen (DLC)
OMSI 2 Downloadpack Vol. 3 - KI-Menschen (DLC)
NOTE : Requires the base game OMSI 2 in order to play. Activation key must be used on a valid Steam account, requires internet connection.
About the game
This third volume in the OMSI download pack series is dedicated to the passengers and other people encountered on OMSI maps.
OMSI 2 Download Pack Vol. 3 contains people with 5 different body types and a large range of different characteristics and clothing styles. You will meet people with and without spectacles, beards or jackets and see them attired in dresses and skirts or in trousers. Numerous fashion variants in blue, green, red and yellow make for plenty of change on OMSI maps.
Over 150 new voice files have been professionally recorded in a sound studio for Download Pack 3. Whether you are listening to a cheery greeting, a passenger making a hesitant enquiry or a vociferous complaint, OMSI sounds different with the new AI people.
NOTE: Before AI people can appear on existing OMSI maps, the people in the OMSI 2 Download Pack 3 must be added to the maps manually. Follow the instructions provided to achieve this.
Further distribution of the AI people in the OMSI 2 Download Pack Vol. 3, whether individually or together with freeware maps, is not permitted for reasons to do with copyright.
Key features
AI people with 5 different body types (3 women and 2 men) in different variants
Over 60 different AI people variants
Can be integrated into commercial and user-created OMSI maps
Professionally recorded voice output in German
Over 150 new voice files
Manual and tutorial-video in german and english
system requirements
Windows - Minimum
OS: Windows Vista / 7 / 8.1 (64bit recommended)
Processor: Dual Core, e.g. Intel Core i5 with 2.8 GHz or similar (Quad Core with 3.0 GHz recommended)
RAM: 4 GB (8 GB recommended)
HDD: 300 MB free disk space
Graphics card: DirectX 9.0c, 1 GB VRAM (2 GB VRAM recommended)
Additional Notes: keyboard, mouse, OMSI 2.2 full version installed
The manual, documentation, video images, software, and all the related materials are copyrighted and cannot be copied, photocopied, trans- lated or reduced to any electronic medium or machine legible form, neither completely nor in part, without the previous written consent of AEROSOFT. THE SOFTWARE IS FURNISHED «AS IS» AND IT DOES NOT COME FURNISHED WITH ANY GUARANTEE IMPLICIT OR EXPRESS.

THE AUTHOR DECLINES EVERY RESPONSIBILITY FOR CONTINGENT MALFUNCTIONS, DECELERATION, AND ANY DRAWBACK THAT SHOULD ARISE, USING THIS SOFTWARE. Copyright © 2013 AEROSOFT. All rights reserved. All trademarks and brand names are trademarks or regis- tered trademarks of the respective owners. Copyrights are serious stuff. If you find any pirated copies of this soft- ware please notify us at support@aerosoft.com. We will make sure re- ports of copyrights violation are rewarded.
Required configuration
Windows - Minimum
OS: Windows Vista / 7 / 8.1 (64bit recommended)
Processor: Dual Core, e.g. Intel Core i5 with 2.8 GHz or similar (Quad Core with 3.0 GHz recommended)
RAM: 4 GB (8 GB recommended)
HDD: 300 MB free disk space
Graphics card: DirectX 9.0c, 1 GB VRAM (2 GB VRAM recommended)
Additional Notes: keyboard, mouse, OMSI 2.2 full version installed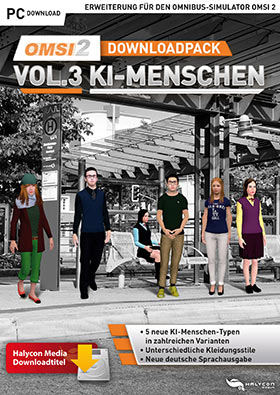 Language:

English

Genre:

Platform:

Vista Win 7 32/64 bits Win 8 32/64 bits Win 10 32/64 bits

Number of players:

1

Release date:

2017-08-10

Publisher