OMSI 2 Add-on Irisbus Intercity Pack
OMSI 2 Add-on Irisbus Intercity Pack
NOTICE: Requires the base game OMSI 2: Steam Edition in order to play. Activation key must be used on a valid Steam account. Requires an internet connection.
About The Game
Since the arrival of the new Irisbus range in 2006, these coaches have been on the road in France non-stop. From school buses to regional coaches, Irisbus has been able to export on an international scale, in particular thanks to its quality ratio, price, its ability to adapt to carrier requirements and its longevity.

How would it be to drive these buses in its various versions now in OMSI 2?

Discover the exiting collection of Irisbus coaches in OMSI 2.
This collection includes seven coaches in the range, ranging in length from 10.6 meters to 12.8 meters, with a rich customization, ideal for your school or peri-urban trips.

Crossway, available in three lengths: 10.6 meters, 12 meters and 12.8 meters.
Intended for the peri urban line, they combine comfort and practicality.
Its luggage racks, seats with armrests and reduced seating arrangement provide a comfortable and personal space for each passenger.

Recreo, available in two lengths: 12 meters and 12.8 meters. Designed for school lines, they are optimized for maximum passenger capacity. With its light interior design and school-type seats, they will be perfectly capable of transporting schoolchildren in complete safety.
These coaches will be able to adapt to any type of mission, even in its 10.6 meters length: although it gains in mobility, the comfort dedicated to passengers remains the same.
Its High Value version offers air conditioning and automatic transmission as standard.

Arway, available in one length: 12 meters.
Intended to make the regional line, it is optimized for passenger comfort. Ultra-comfortable reclining seats, passenger lights and individual air intake, double glazing and air conditioning as standard, this coach is made to transport your passengers, in all comfort, on the long road.
The pack contains a lot of various vehicles:
Crossway Euro 5 / 10.6 meters / 45 passenger seats

Crossway Euro 5 / 12 meters / 55 passenger seats

Crossway Euro 5 / 12.8 meters / 59 passenger seats

Crossway Euro 5 High Value / 12.8 meters / 59 passenger seats

Recreo Euro 5 / 12 meters / 59 passenger seats
Recreo Euro 5 / 12.8 meters / 61 passenger seats
Arway Euro 5 / 12 meters / 49 passenger seats
Keys Features
Seven variants
High detailed optimized mesh

Realistic IVECO experience
Authentic sounds
Realistic retarder, assignable shortcuts
High customizable variants (Interior and exterior design)

Detailed manuals for repaints creation
Destination displays used in France
Ticket printer for Crossway and Arway variants
Detailed setvar list
Low specs friendly
Includes repaint versions for selected freeware and payware maps
Required Configuration
Windows - Minimum
OS: Win 8.1
Processor: Dual-Core, e.g. Core i5 with 2.8 GHz or comparable
Memory: 4 GB RAM
Graphics: 3D graphics card with at least 1,024 MB
DirectX: Version 9.0c
Storage: 2 GB available space
Sound Card: Yes
Additional Notes: For OMSI 2, the 4 GB patch is recommended | Installed full version OMSI 2 (at least version 2.3)
Windows - Recommended
OS: Win 10 / 64bit

Processor: Dual-Core, e.g. Core i5 with 2.8 GHz or comparable

Memory: 8 GB RAM

Graphics: 2,048 MB
Copyright © 2020 AEROSOFT. All rights reserved. All trademarks and brand names are trademarks or registered trademarks of the respective owners. Copyrights are serious stuff. If you find any pirated copies of this soft- ware please notify us. We will make sure reports of copyrights violation are rewarded.
Required configuration
Windows - Minimum
OS: Win 8.1
Processor: Dual-Core, e.g. Core i5 with 2.8 GHz or comparable
Memory: 4 GB RAM
Graphics: 3D graphics card with at least 1,024 MB
DirectX: Version 9.0c
Storage: 2 GB available space
Sound Card: Yes
Additional Notes: For OMSI 2, the 4 GB patch is recommended | Installed full version OMSI 2 (at least version 2.3)
Windows - Recommended
OS: Win 10 / 64bit

Processor: Dual-Core, e.g. Core i5 with 2.8 GHz or comparable

Memory: 8 GB RAM

Graphics: 2,048 MB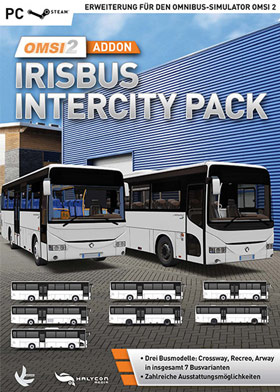 Language:

English

Genre:

Platform:

Win 8.1 64 bits Win 10 64 bits

Number of players:

1

Release date:

2020-12-04

Publisher