OMSI 2 Add-On Citybus O305G
OMSI 2 Add-On Citybus O305G
NOTICE: Requires the base game OMSI 2 in order to play. Activation key must be used on a valid Steam account, requires internet connection.
About The Game
The "Citybus O305G" allows you to take a journey through time. The "Citybus O305G " as a pure vehicle add-on aims to build a virtual monument for the articulated pusher busses of the first generation and sends you right back into the early 1980s.
The add-on "Citybus 0305G" contains two variants of the articulated pusher bus for OMSI 2. The eye catchers are the different fronts of the busses. One related to the "VÖV-Front" and the other to the "StüLB-Front". Both models come in different colour and interior variants. Another highlight is the authentic pollution model and the start behavior that is affected by weather and battery conditions.
The busses have a manually changeable rolling band display and can be used on the OMSI 2 default maps "Berlin-Spandau" and "Grundorf".
Hint: We recommend using this articulated pusher bus in combination with the OMSI add-on "Citybus 0305" since it also contains hof-files and suitable varnishes for those.
KEY FEATURES
Two variants of the articulated pusher bus with different fronts
Different colour painting and interior design variants
Realistic models and sounds based on the real-world O305G
Authentic pollution model
Automatic doors (middle and back)
Stop request button with original sounds
Weather and battery affected starting behaviour
Rolling band display for Spandau line 92, Grundorf line 76 and city bus sphere "Neuendorf"
Repaintable in combination with the OMSI-Repaint-Tool
Required Configuration
Windows - Minimum
OMSI 2 – The Omnibus Simulator min. 2.2.032
Operating System: Windows XP / Vista / 7 / 8.1 / 10
Processor (CPU): min. 2.8 GHz
Memory (RAM): min. 4 GB
Free hard disk space: 400 MB
Graphics card: min. 1024 MB, DirectX 9.0c or higher
Required configuration
Windows - Minimum
OMSI 2 – The Omnibus Simulator min. 2.2.032
Operating System: Windows XP / Vista / 7 / 8.1 / 10
Processor (CPU): min. 2.8 GHz
Memory (RAM): min. 4 GB
Free hard disk space: 400 MB
Graphics card: min. 1024 MB, DirectX 9.0c or higher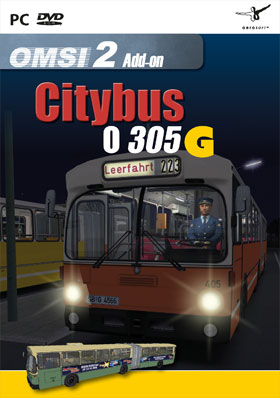 Language:

English

Genre:

Platform:

Vista 32/64 bits Win XP Win 7 32/64 bits Win 8.1 32/64 bits Win 10 32/64 bits

Number of players:

1

Release date:

2016-03-08

Publisher