MX vs. ATV Supercross Encore
MX vs. ATV Supercross Encore
NOTICE: Activation key must be used on a valid Steam account, requires internet connection.
ABOUT THE GAME
---
Rip, jump and scrub your way to victory with over 35 tracks in this vastly extended version!
Only the Encore edition features the brand new Rhythm Racing mode, extra outdoor Nationals tracks, and exclusive Waypoint races in open world maps.
The improved game engine brings remastered HD graphics & sound, smoother online gameplay, and updated riding physics for full control.
KEY FEATURES
---
More than twice as many tracks as the original MX vs. ATV Supercross



12 player online



Rhythm Racing mode: Drag race your friends on straight dirt tracks filled with obstacles and jumps



Free Ride mode for racing without boundaries



All new gear and graphics kits



Over 60 professional riders to race against



More than 80 licensed motocross companies for maximum authenticity



Remastered audio which includes for the first time 3D positional sounds and new environmental effects



Comprehensive tutorial section with pro tips for newcomers to the series
SYSTEM REQUIREMENTS
---
OS: Windows® Vista, 7, 8
Processor: Intel® Core™ 2 Duo @ 1.8Ghz / AMD Athlon 64 X2 equivalent
Memory: 2 GB RAM
Graphics: DirectX 10 compatible graphics card (Intel HD 3000, NVIDIA GeForce GTS 240 (1GB VRAM) or ATI Radeon HD 4600 (1GB VRAM))
DirectX: Version 9.0c
Hard Drive: 5 GB available space
Required configuration
OS: Windows® Vista, 7, 8
Processor: Intel® Core™ 2 Duo @ 1.8Ghz / AMD Athlon 64 X2 equivalent
Memory: 2 GB RAM
Graphics: DirectX 10 compatible graphics card (Intel HD 3000, NVIDIA GeForce GTS 240 (1GB VRAM) or ATI Radeon HD 4600 (1GB VRAM))
DirectX: Version 9.0c
Hard Drive: 5 GB available space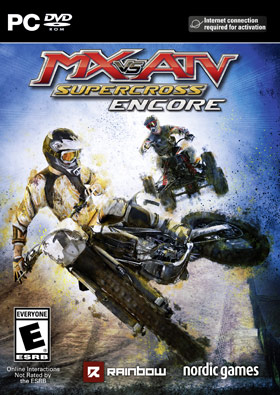 Language:

English

Genre:

Platform:

Vista Win 7 32/64 bits Win 8 32/64 bits Win 8.1 32/64 bits Win 10 32 bits Win 10 64 bits

Number of players:

1+

Release date:

2015-10-27

Publisher