Jurassic World Evolution 2 - Deluxe Edition
Jurassic World Evolution 2 - Deluxe Edition
NOTICE: Activation key must be used on a valid Steam account. Requires internet connection.
Deluxe Edition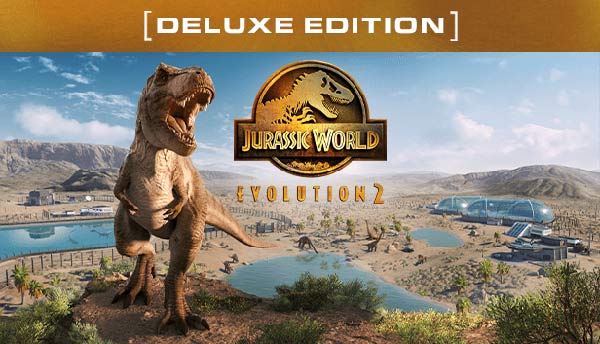 Jurassic World Evolution 2: Deluxe Edition features five spectacular prehistoric animals, including all-new marine and flying reptiles, as well as six unique building signs, and three exciting vehicle skins inspired by the Dinosaur Protection Group to use across your Ranger Team, Capture Team, and Mobile Vet Unit teams in Challenge and Sandbox modes. Purchase the Deluxe Edition for the following species:
Geosternbergia
Attenborosaurus
Pachyrhinosaurus
Huayangosaurus
Megalosaurus
About The Game
Jurassic World Evolution 2 is the much-anticipated sequel to Frontier's highly successful Jurassic World Evolution, building upon the groundbreaking and immersive 2018 management simulation.
It introduces a compelling, new narrative campaign, incredible new features, and awe-inspiring new dinosaurs brought to life with captivating authenticity. Together with expanded construction and more customisation options, the result is an even bigger, better and authentic Jurassic World game.
Key features
An Original Jurassic Story
Immerse yourself in a compelling and original Jurassic World narrative set after the Earth-shattering events of Jurassic World: Fallen Kingdom. Lead efforts to control, conserve and contain dinosaurs as you work alongside iconic characters from the films, including Dr. Ian Malcolm (Jeff Goldblum) and Claire Dearing (Bryce Dallas Howard).
Create your own Jurassic World
Take control with deeper management tools and creative options. Construct and customise new buildings and flex your managerial muscle across never-before-seen locations ranging from dense forests to rocky deserts. Rescue and bioengineer more than 75 prehistoric species, including highly requested flying and marine reptiles , and watch them seek territory, fight and interact with staggering realism.
Play with Chaos Theory
Chaos Theory mode lets you play through key moments of your favourite films - with a twist. Experience "what-if" scenarios from iconic Jurassic World and Jurassic Park films, with each level set across eras and locations from all five movies. Immerse yourself at the heart of the Jurassic World franchise and see how things turn out when you are put at the helm of managing new challenges with unpredictable outcomes.
System Requirements
Windows - Minimum
OS: Windows 10 64bit (min version 1809)
Processor: Intel i5-4590/AMD FX 8370
Memory: 8 GB RAM
Graphics: (4GB VRAM) NVIDIA GeForce GTX 1050Ti (Legacy GPU: GeForce GTX 960) / AMD Radeon RX 470
DirectX: Version 12
Storage: 14 GB available space
Windows - Recommended
OS: Windows 10 64bit (min version 1809)
Processor: Intel i7-5775C/AMD Ryzen 5 1500X
Memory: 12 GB RAM
Graphics: (6GB VRAM) NVIDIA GeForce GTX 1070 / AMD RX 570 (8GB)
DirectX: Version 12
Storage: 14 GB available space
Jurassic World Evolution 2 © 2021 Universal City Studios LLC and Amblin Entertainment, Inc. All Rights Reserved. © 2021 Frontier Developments, PLC. All rights reserved.
Required configuration
Windows - Minimum
OS: Windows 10 64bit (min version 1809)
Processor: Intel i5-4590/AMD FX 8370
Memory: 8 GB RAM
Graphics: (4GB VRAM) NVIDIA GeForce GTX 1050Ti (Legacy GPU: GeForce GTX 960) / AMD Radeon RX 470
DirectX: Version 12
Storage: 14 GB available space
Windows - Recommended
OS: Windows 10 64bit (min version 1809)
Processor: Intel i7-5775C/AMD Ryzen 5 1500X
Memory: 12 GB RAM
Graphics: (6GB VRAM) NVIDIA GeForce GTX 1070 / AMD RX 570 (8GB)
DirectX: Version 12
Storage: 14 GB available space
Language:

English

Genre:

Platform:

Number of players:

1

Release date:

2021-11-09

Publisher