Haegemonia - The Solon Heritage
Haegemonia - The Solon Heritage
ABOUT THE GAME
---
Includes the e-guide.
With Haegemonia : The Solon Heritage, discover the official expansion of haegemonia Legions of Iron. With fantastic new innovations, and graphics that are even more stunning graphics, your haegemonia experience just went into light speed!
KEY FEATURES
---
15 new maps in solo and multiplayer modes.


10 new ships (including diplomatics ships, race-specific ships, probes).


Simultaneous Invention Research.


New spy missions (abilities).


New special effects created by the unique Walker engine.


New units (heroes, mercenaries) specifically created for diverse tactics.


Rebalanced gameplay for inventions and ships - only works for the addon.
SYSTEM REQUIREMENTS
---
Pentium III 600Mhz
128MB RAM
2nd generation 3D card
Direct sound compatible sound system
98 Me 2000 XP
Direct X 8.1
Required configuration
System requirements :
Pentium III 600Mhz
128MB RAM
2nd generation 3D card
Direct sound compatible sound system
98 Me 2000 XP
Direct X 8.1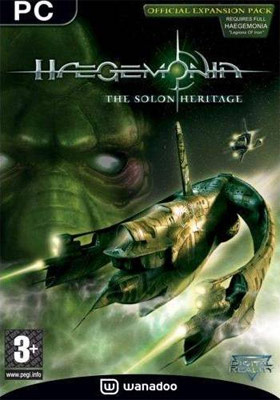 Language:

English

Genre:

Platform:

Win XP Win 2000 Win 98 Win Me

Number of players:

1

Release date:

2003-01-01

Publisher