Fireworks Simulator
NOTICE: Activation key must be used on a valid Steam account. Requires internet connection.
ABOUT THE GAME
---
Fireworks fascination - All eyes are on the sky, the music starts, the first spectacular effects explode high in the air, open mouths, loud "Ooohs" and "Aaahs" from the crowd. Anyone who's ever witnessed live fireworks knows just how spellbinding a well put-together display can be. Attention, all firework fans! Devote yourself to the supreme discipline and create your own, individual fireworks display synchronized to music. Become a pro pyrotechnician!
Plan your own fireworks display, by configuring, positioning and igniting category 4 professional effects from WECO, Europe's market leader in the fireworks industry! In Fireworks Simulator, you can choose between 100 authentic WECO ground and aerial fireworks, and configure them to your liking in launch racks at famous locations and in high-quality 3D graphics.
KEY FEATURES
---
Developed in cooperation with certified pyrotechnicians


Sandbox simulation gameplay with limitless combinations of the different effects


Over 100 authentic effects and 30 launch racks


Officially licensed by WECO


Position and configure your launch racks


Save your best firework displays locally as videos and share them with your friends!
Direct your fireworks display and show it from up to 6 different camera angles
SYSTEM REQUIREMENTS
---
OS: Windows Vista/Windows 7/Windows 8
Processor: AMD/Intel 3.0 GHz quad-core processor or higher (Intel Core i7 1st generation or AMD FX 8350 or higher are recommended)
Memory: 4 GB RAM
Graphics: ATI/NVIDIA graphics card with at least 1 GB VRAM and DirectX 9.0c and Shader Model 4 support (ATI/AMD Radeon HD7850 and NVIDIA GeForce GTX560 or higher)
DirectX 9.0c compatible sound card
Hard Drive: 600 MB hard disk space
Mouse and keyboard
---
© 2014 rondomedia Marketing & Vertriebs GmbH
© 2014 Reality Twist GmbH
Produced under license from WECO Pyrotechnische Fabrik GmbH All rights reserved.
Required configuration
OS: Windows Vista/Windows 7/Windows 8
Processor: AMD/Intel 3.0 GHz quad-core processor or higher (Intel Core i7 1st generation or AMD FX 8350 or higher are recommended)
Memory: 4 GB RAM
Graphics: ATI/NVIDIA graphics card with at least 1 GB VRAM and DirectX 9.0c and Shader Model 4 support (ATI/AMD Radeon HD7850 and NVIDIA GeForce GTX560 or higher)
DirectX 9.0c compatible sound card
Hard Drive: 600 MB hard disk space
Mouse and keyboard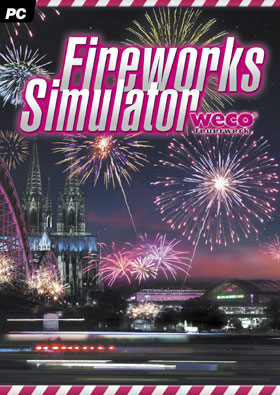 Language:

English

Genre:

Platform:

Vista Win 7 32/64 bits Win 8 32/64 bits

Number of players:

1

Release date:

2014-11-26

Publisher