Double Pack Patrician IV Gold + Port Royale 3 Gold
Double Pack Patrician IV Gold + Port Royale 3 Gold
NOTICE: Activation key must be used on a valid Steam account. Requires an internet connection.
DOUBLE PACK
Patrician IV Gold Edition

Patrician IV
Patrician IV: Rise of a Dynasty

Port Royale 3 Gold Edition

Port Royale 3
DLC 1 Harbour Master
DLC 2 Dawn Of Pirates
DLC 3 New Adventures
About the game
In this twin pack trade-sim fans will find a true treasure: two of the most important representatives of the genre combined in one box! Both Patrician IV Gold and Port Royale 3 Gold received several awards and guarantee hundreds of hours of gameplay!
Patrician IV Gold challenges players to rise up the merchant ranks to become the leader of a burgeoning shipping empire during the late Middle Age in Northern Europe. To do this trade with common goods, build up your own production and establish a merchant fleet. Later, you gain more and more political influence and even found new towns.
Port Royale 3 Gold puts you in the Caribbean of the turbulent 17th Century. The maritime powers of Spain, England, France and the Netherlands fight over the colonies. And there you are, a young sea captain whose only goal is to become the most powerful man in the New World. You can choose from three extensive campaigns: the Adventurer, the merchant or the Pirate!
Key features
Includes Patrician IV Gold (main game and the official expansion "Rise of a Dynasty") and Port Royale 3 Gold (main game and the official expansion "Treasure Island")
A total of four campaigns plus numerous scenarios, free game modes and cooperative and competitive multiplayer modes for up to four players provide hundreds of hours of gameplay
Explore, travel and supply the northern European sea in Patrician IV and dive in the stormy Caribbean in the 17th Century of Port Royale 3, where you follow the path of a trader, an adventurer or a pirate
Fully simulated product circuits and dynamic prices are based on supply and demand
Create your own fleets and beat thrilling naval battles
System Requirements
Windows - PATRICIAN IV GOLD EDITION
OS: Windows XP / Vista / 7 / 8
Processor: 2 GHz
Memory: 1 GB
Hard Disk Space: 5 GB
Video Card: 256 MB DirectX 9.0c compatible PCIe (Geforce 6 Series/Radeon X1000 Series)
Sound: DirectX compatible
DirectX®: 9.0c
Windows - PORT ROYALE 3 GOLD EDITION
OS:Windowx XP / Vista / 7 / 8
Processor:Dualcore CPU
Memory:2 GB RAM
Graphics:Shader Model 2.0 PCIe (Geforce 7 Series, Radeon X2000-Series)
DirectX®:dx90c
Hard Drive:3 GB HD space
Other Requirements:Broadband Internet connection
Copyright © 2010 Kalypso Media Group. All rights reserved. Developed by Gaming Minds Studios. Published by Kalypso Media Group. All other logos, copyrights and trademarks are property of their respective owners.
Required configuration
Windows - PATRICIAN IV GOLD EDITION
OS: Windows XP / Vista / 7 / 8
Processor: 2 GHz
Memory: 1 GB
Hard Disk Space: 5 GB
Video Card: 256 MB DirectX 9.0c compatible PCIe (Geforce 6 Series/Radeon X1000 Series)
Sound: DirectX compatible
DirectX®: 9.0c
Windows - PORT ROYALE 3 GOLD EDITION
OS:Windowx XP / Vista / 7 / 8
Processor:Dualcore CPU
Memory:2 GB RAM
Graphics:Shader Model 2.0 PCIe (Geforce 7 Series, Radeon X2000-Series)
DirectX®:dx90c
Hard Drive:3 GB HD space
Other Requirements:Broadband Internet connection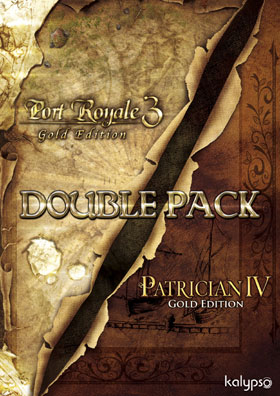 Language:

English

Genre:

Platform:

Vista Win XP Win 7 32/64 bits Win 8 32/64 bits

Number of players:

1+

Release date:

2014-07-25

Publisher