Agricultural Simulator 2011 Extended Edition
Agricultural Simulator 2011 Extended Edition
Unworked fields and powerful tractors are available for all farming fans. In the all-new PC game Agrar Simulator from UIG Entertainment you may do all the work of a classical farmer. In a charming mountain village you will manage your farm and produce food, renewable resources, and energy resources. You will till your fields with farm machines from CLAAS and care for your animals.
Manage your own farm in a gorgeous mountain scenery!
Powerful farm machines from CLAAS!
Many genuine tractors and the possibility to ride all of them make the Agrar Simulator 2011 complete. Many machines from the well-known manufacturer CLAAS are available. Choose between different tractors, harvesters, and additions. When starting the game only few and weak machines will help you to farm small fields. During the game your fleet will grow more and more. Sell your products and invest into better equipment. More powerful machines will help you to farm bigger areas.
Agrar Simulator 2011 offers many possibilities!
As striving farmer you have to invest carefully to maximize the crop. Don't kick over the traces or you won't be able to upgrade your farm and to buy more land. Choose the right seed from different types of grains like barley, rye, or wheat or decide to grow canola or corn. And don't forget to rotate to prevent exhausting the soil. If you want to pay special attention to biological cultivation you may also invest into this area. The crop will be richer but it takes more time to sell it and the acquisition costs will be higher. On the other hand your reputation in the village will rise.
Grow different types of grains and economic plants!
Become cattle-breeder!
Get another main pillar and breed cattle: cows, horses, sheep, hen, and geese. You may even have game animals on your farm and sell them profitable as food. Your animals need your full attention. Take care of proper feeding, daily care of the stables, and even their well-being. You should regularly have a veterinary look after your animals' health. Having so much to take care of you will sooner or later need help. Hire workers and invest into their further education.
Play together with family and friends!
The career mode in Agrar Simulator 2011 with all those challenges guarantees a lot of fun. Thanks to the profile management you can play the game with the whole family. Playing the cooperative game mode allows managing your farm either online or offline together with your friends.
Features
Huge 3d landscape with valleys and mountains
Charming mountain village
Many machines and attachments
Thrilling career mode with economical and biological influence
Changing weather
Damage and dirt system
Realistic tracks
Shops for seeds and machines
Lots of tasks are awaiting the player in career mode
Online multiplayer
Created with the help from CLAAS with all new farming machines
Minimum System Requirements
OS: XP / Vista / 7
CPU: 2GHz
RAM: 1 GB
HDD: 750 MB
Vcard: Geforce 6800 Serie / ATI X1600, S3 C, 430GT (min. 128 MB VRAM) or higher, Shader Model 2.0 or higher (Best: Shader Model 3.0)
Scard: DirectX 9 compliant
Game Size unpacked (MB) ca. 500 MB
Required configuration
Minimum System Requirements
OS: XP / Vista / 7
CPU: 2GHz
RAM: 1 GB
HDD: 750 MB
Vcard: Geforce 6800 Serie / ATI X1600, S3 C, 430GT (min. 128 MB VRAM) or higher, Shader Model 2.0 or higher (Best: Shader Model 3.0)
Scard: DirectX 9 compliant
Game Size unpacked (MB) ca. 500 MB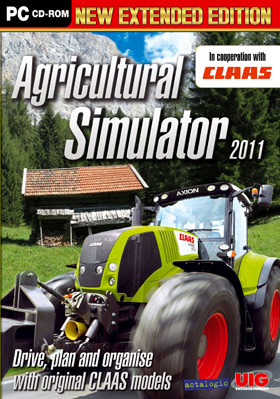 Language:

English

Genre:

Platform:

Vista Win XP Win 7 32/64 bits Win 7 32 bits Win 8 32/64 bits Win 8 32 bits

Number of players:

1

Release date:

2010-12-10

Publisher