Tropico Reloaded
NOTICE: Activation key must be used on a valid Steam account. Requires internet connection.
About the game
Tropico combines real-time strategy and simulation elements with ahealthy dose of political intrigue and Caribbean flair to create a unique and critically acclaimedgame experience.
Tropico- You are the sole ruler of a remote banana republic. Fight against poverty, corruptionand rebels, make your own people happy or enforce your rule through military strength. However,do not forget to set aside a few dollars for your own retirement on a swiss bank account!
Tropico - Paradise Island - The official expansion for the original game not only bringsnatural disasters like tropical storms but also new tourist attractions to your island. Face thechallenges of tons of new scenarios, prove yourself a worthy leader to your own people and makeTropico a paradise for wealthy visitors from overseas.
Tropico 2 - Pirate Cove - As a feared Pirate King, you have to keep both your buccaneersand prisoners under control and send your ships on the prowl for treasury. Apart from an entirelynew setting, the official sequel to the original Tropico offers gameplay improvements, new featuresand scenarios.
System Requirements
Windows - Minimum
Windows Vista, XP, 2000, 98, Me
2,0 Ghz Pentium 4 or AMD Prozessor
256 MB RAM
DVD-Drive
1,8 GB free Hard Disk space
DirectX 8.1-compatible graphics card with at least 64 MB RAM
Mouse & Keyboard
Required configuration
Windows Vista, XP, 2000, 98, Me
2,0 Ghz Pentium 4 or AMD Prozessor
256 MB RAM
DVD-Drive
1,8 GB free Hard Disk space
DirectX 8.1-compatible graphics card with at least 64 MB RAM
Mouse & Keyboard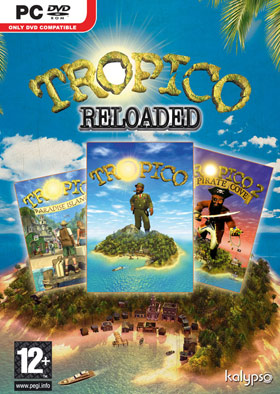 Language:

English

Genre:

Platform:

Vista Win XP Win 2000 Win 98 Win Me

Number of players:

1

Release date:

2009-07-24

Publisher