Tropico 3 : Absolute Power
Tropico 3 : Absolute Power
NOTICE: Requires the base game Tropico 3 in order to play. Activation key must be used on a valid Steam account, requires internet connection.
ABOUT THE GAME
---
Tropico 3 and provides all-new options as ruler of a small Caribbean island nation.
It adds a new campaign, new missions, new island types, unique buildings and new
powers to maximize the length and success of your term in power.
Key Features
– New campaign featuring 10 all-new missions and islands
– New buildings – garbage dump, marina, grade school, etc
– New edicts – declare an annual festival dedicated to yourself, print your own money or outlaw your most annoying political faction among others
– New traits and appearances to take El Presidente's power to the next level
– New huge landmarks – huge decorations and structures as a reward for political and economical success to make your island unique
– New 'loyalist' faction comprised of your die-hard supporters
– More radio announcements and a new radio station with witty comments on your actions in the game
Minimum system requirements :
OS: Windows XP SP 2 / Vista / 7
Processor: 2.4 GHz
Memory: 1 GB RAM
Video: Nvidia Geforce 6600 / Radeon X1600 - 256 MB RAM - DirectX 9.0c with Shader Model 3.0
Recommended system requirements :
OS: Windows XP SP 2 / Vista / Windows 7
Processor: 2.4 GHz Dual Core
Memory: 2 GB RAM
Video: Nvidia Geforce 8600 / Radeon HD 4800 - 512 MB RAM - DirectX 9.0c
Required configuration
Minimum system requirements :
OS: Windows XP SP 2 / Vista / 7
Processor: 2.4 GHz
Memory: 1 GB RAM
Video: Nvidia Geforce 6600 / Radeon X1600 - 256 MB RAM - DirectX 9.0c with Shader Model 3.0
Recommended system requirements :
OS: Windows XP SP 2 / Vista / Windows 7
Processor: 2.4 GHz Dual Core
Memory: 2 GB RAM
Video: Nvidia Geforce 8600 / Radeon HD 4800 - 512 MB RAM - DirectX 9.0c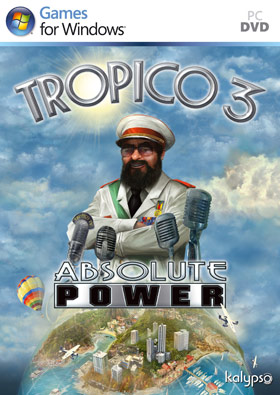 Language:

English

Genre:

Platform:

Vista Win 7 32/64 bits Win 7 32 bits Win 8 32/64 bits Win 8 32 bits Win XP SP2

Number of players:

Multi

Release date:

2010-05-14

Publisher