Honey, I Joined a Cult
NOTICE: Activation key must be used on a valid Steam account. Requires internet connection.
Get instant access and start playing; get involved with this game as it develops.
This Early Access game is not complete and may or may not change further. If you are not excited to play this game in its current state, then you should wait to see if the game progresses further in development.
About The Game
In Honey, I Joined a Cult you must build and expand your base, manage your cultists and resources, and increase your faith, funds and following.
Key features
Every great cult needs great interior design. Place, design and decorate rooms to keep your cultists happy. There is a whole host of weird and wonderful room options, each with a vital role to play in your cult. From polygraph rooms and spirit chambers to energy spas and the dreaded ministry of alteration.
A cult is only as good as its name. Choose yours wisely when picking for your cult, cult leader, the Divine Being that they worship, the Holy Room in which they prove their dedication and the followers that will become the cultists of tomorrow! Make your cult your own by deciding on:
*A funky symbol
*A weird uniform to impress would-be followers
*An imposing hat to make other cults jealous
*A strange relic to worship and adore
Being snappy dressers isn't enough, your cult must run like a well-oiled hypno wheel. Set schedules for your cultists, level them up and manage food and maintenance systems. Assign tasks to your cultists based on a priority system, who said micro-management doesn't work?!
Cultists have needs too and you'll have to ensure that all of yours are fed, watered and having lots of fun! You must take care of your cult's physical and mental well-being to allow them to be the best cult members they can possibly be!
Use all of your charms to recruit followers who will bring in resources and eventually climb through the ranks to become full cultists. Discontented followers will leave, so be sure to turn that frown upside down!
Your cult leader can be very demanding. Whether it's recruiting specific followers or building certain rooms, be sure to bend to their every whim. Not fulfilling demands will lower thier mood and a displeased leader won't be able to perform effective sermons.
Cultists can be sent on missions in the local town. Whether it's gathering resources, unlocking new tech or just a demand from your leader, the Covert Ops room is the perfect place to plan!
System Requirements
Windows - Minimum
OS: Windows 7
Processor: Intel Core i5-4690K or AMD FX-8370
Memory: 2 GB RAM
Graphics: NVIDIA GeForce GTS 250, 1 GB or AMD Radeon HD 5750, 1 GB
Storage: 450 MB available space
Windows - Recommended
OS: Windows 10
Processor: Intel Core i5-7600 or AMD Ryzen 5 2600X
Memory: 4 GB RAM
Graphics: NVIDIA GeForce GTS 250, 1 GB or AMD Radeon HD 5750, 1 GB
Storage: 450 MB available space
Honey, I Joined a Cult © Sole Survivor Games Ltd, Published under licence by Team17 Digital Limited.
Required configuration
Windows - Minimum
OS: Windows 7
Processor: Intel Core i5-4690K or AMD FX-8370
Memory: 2 GB RAM
Graphics: NVIDIA GeForce GTS 250, 1 GB or AMD Radeon HD 5750, 1 GB
Storage: 450 MB available space
Windows - Recommended
OS: Windows 10
Processor: Intel Core i5-7600 or AMD Ryzen 5 2600X
Memory: 4 GB RAM
Graphics: NVIDIA GeForce GTS 250, 1 GB or AMD Radeon HD 5750, 1 GB
Storage: 450 MB available space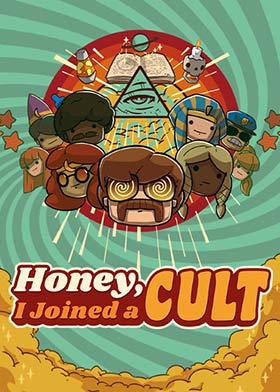 Language:

English

Genre:

Platform:

Win 7 32/64 bits Win 8 32/64 bits Win 10 32/64 bits

Number of players:

1

Release date:

2021-09-14

Publisher