Freight Tycoon Inc.
NOTICE: Activation key must be used on a valid Steam account. Requires internet connection.
About the game
Freight Tycoon is an economic simulation game which challenges players' management skills. It puts one into the shoes of an owner of a cargo transportation company. One has to evaluate the profitability of contracts, contact customers, and appoint drivers to deliver goods.
Office development is also an essential part of success in business. Employing and dismissing workers, buying new vehicles and keeping technical records competently. But one should be aware of rivals which are interested in forcing out your company out of the market.
The game is set in a fully 3D world with various landscapes and season changes. The appearance of buildings, vehicles and headquarters change interactively, so one can see the results.
Freight Tycoon Inc. gives you a unique opportunity to extend the world of Freight Tycoon and create your own cargo transportation empire.
Key Features
Elaborate interface
30 interactive 3D maps
3 levels of office development
Make contracts
Buy and sell motor vehicles
Employ and dismiss workers
Over 100 car models
Bonuses for jobs done
System Requirements
Windows - Minimum
OS: Windows 2000/XP/7
Processor: Intel Pentium IV or AMD Athlon 1,5 GHz
Memory: 512 MB RAM
Graphics: nVidia GeForce 3 or ATI Radeon 8500
Storage: 3 GB available space
Sound Card: DirectX compatible sound card
© 2007 1C Company. All rights reserved. © 2007 Nikita. All rights reserved. Uses Bink Video. Copyright © 1997-2007 by RAD Game Tools, Inc. Other products and company names mentioned herein are trademarks of their respective owners.
Required configuration
Windows - Minimum
OS: Windows 2000/XP/7
Processor: Intel Pentium IV or AMD Athlon 1,5 GHz
Memory: 512 MB RAM
Graphics: nVidia GeForce 3 or ATI Radeon 8500
Storage: 3 GB available space
Sound Card: DirectX compatible sound card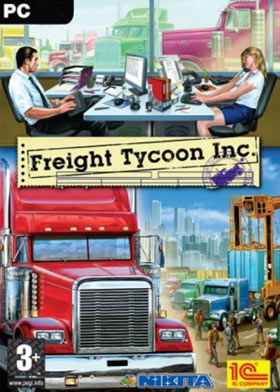 Language:

English

Genre:

Platform:

Number of players:

1

Release date:

2008-05-23

Publisher