Pandemic: The Board Game
NOTICE: Activation key must be used on a valid Steam account. Requires internet connection.
About the game
As skilled members of a disease-fighting team, you must keep four deadly diseases at bay while discovering their cures. Travel the world, treat infections, and find cures.
You must work as a team to succeed. The clock is ticking as outbreaks and epidemics fuel the spreading plagues. Can you find all four cures in time? The fate of humanity is in your hands!
Pandemic: The Board Game is a family-friendly cooperative game. Simple to understand and lots of fun, Pandemic: The Board Game puts you in an apocalyptic situation where you must work as a team to save the world.
How to Play
In Pandemic: The Board Game each player has a unique role with different abilities. On a turn, players will have four actions in order to cure diseases and save the world. They can remove disease cubes from the board; fly to a city in need; trade cards with fellow players; and much more.
At the end of every player's turn, new cities are infected with disease cubes and Epidemics may arise. You must fight to prevent the outbreaks before they spin out of control.
In Pandemic: The Board Game, there is only one way to win: cure all four diseases before you run out of time!
An award-wining board game and player favorite since its release in 2008.
Key Features
7 Role Cards With Unique Abilities
Pass-and-play multiplayer (2-4)
Three difficulty settings make the game suitable for beginners, intermediate players, and experts
Fully guided interactive tutorial; plus "Info Mode" for in-game reminders of the rules
Animated interface gives clear indication of the game's progress and hotspots
Adaptive soundtrack
Complete implementation of the board game suitable for expert play
Interface designed and tested for ease-of-use
System Requirements
Windows - Minimum
OS: Windows 7+
Processor: AMD/Intel 2.0 GHz dual-core
Memory: 2 GB RAM
Graphics: Nvidia 450 GTS / Radeon HD 5750 or better
Storage: 1 GB available space
Mac - Recommended
OS: Mac OS X 10.9.1
Processor: 2.0 GHz dual-core processor or better
Memory: 2 GB RAM
Graphics: Nvidia Geforce GTS 450 Series, AMD Radeon HD 6770 or better (min 1GB VRAM)
Storage: 1 GB available space
© 2018 Digital game published by Asmodee Digital. Game created by Matt Leacock and edited by Z-Man Games.
Required configuration
Windows - Minimum
OS: Windows 7+
Processor: AMD/Intel 2.0 GHz dual-core
Memory: 2 GB RAM
Graphics: Nvidia 450 GTS / Radeon HD 5750 or better
Storage: 1 GB available space
Mac - Recommended
OS: Mac OS X 10.9.1
Processor: 2.0 GHz dual-core processor or better
Memory: 2 GB RAM
Graphics: Nvidia Geforce GTS 450 Series, AMD Radeon HD 6770 or better (min 1GB VRAM)
Storage: 1 GB available space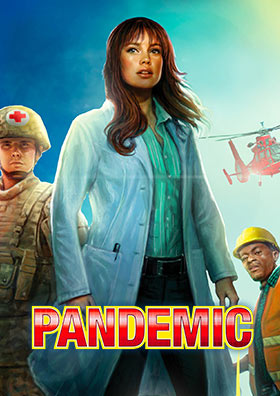 Language:

English

Genre:

Platform:

Win 7 32/64 bits Win 8.1 32/64 bits Win 10 32/64 bits

Mac OS X

Number of players:

1+

Release date:

2018-08-24

Publisher