Masyu
ABOUT THE GAME
---
An entertaining logic puzzle,
Masyu
uses no numbers or letters. It is played on a grid of squares, some of which contain white or black circles. The objective is to draw a continuous loop which passes through each circle without crossing itself following a simple set of rules to make your task more demanding. With 3 difficulty levels, it's suitable for all ages and abilities. Plus the easy to use print and go facility means you can take puzzles with you wherever you go.
Extremely addictive, Masyu is a puzzle you'll find hard to put down.
KEY FEATURES
---
3 Difficulty levels – Simple, Medium, Hard
Various Schemes to choose from
Play against the clock
Save & Pause at any stage
Unlimited Undo – undo last move or right back to the beginning
Game Markers
Hints & Tips to help you on your way
Solve puzzle – an instant solution should you get stuck!
High Score Table
Print & Go facility
Export as JPEG and send to friends and family
SYSTEM REQUIREMENTS
---
System: Windows98/ME/2000/XP/Vista/7/8/10
Processor: 500MHz
RAM: 128Mb
Gfx: SVGA card
Hard disk:20 Mb
Required configuration
Système : Windows98/ME/2000/XP/Vista/7/8/10
Processor: 500MHz
RAM: 128Mb
Gfx: SVGA card
Hard disk:20 Mb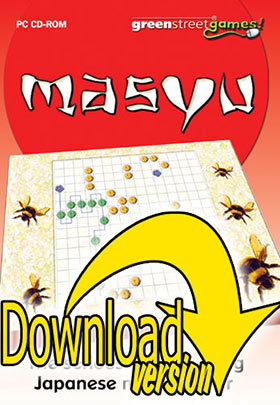 Language:

English

Genre:

Platform:

Vista Win XP Win 8 32/64 bits Win 8.1 32/64 bits Win 10 32/64 bits Win 2000 Win 98 Win Me

Number of players:

1

Publisher