Cardpocalypse Time Warp Edition
Cardpocalypse Time Warp Edition
NOTICE: Activation key must be used on a valid Steam account. Requires internet connection.
Time Warp Edition
Cardpocalypse
Cardpocalypse's soundtrack
Out of Time DLC
About The Game
Make friends, play cards, twist the rules, become a Mega Mutant Power Pets master, and try to save the world in this single-player RPG about being a 90's kid. On her first day at Dudsdale Elementary, 10-year old Jess accidentally gets everybody's favorite collectible card game banned, forcing the kids to take their card battles underground. Troubles arise when mutants from the game invade the real world, and it's up to Jess and her friends to stop them.
From the award-winning indie game studio, Gambrinous, creators of Guild of Dungeoneering, comes an RPG where battles are played with an epic collectible card game. Cardpocalypse takes you back to the 1990's, a time when computers used floppy disks, and people read magazines for video game cheat codes. You will explore Dudsdale Elementary on a mission to build killer card decks in an effort to defeat the mutants. You will have to trade, earn, wager, change rules and permanently alter cards on your way to victory.
Key Features
BE A CHAMPION: Build your decks around the ultra rare Champion cards you earn. Each Champion comes with unique abilities to tailor your deck around. First player to get their opponent's Champion card's health to zero wins the match.
GO MEGA: Champion cards evolve to their MEGA forms when their health halves, doing more attack damage and gaining new powers.
CHANGE THE GAME: The kids sometimes use house rules and who knows what the Mutants will change. Throughout the game you will choose the new rules and conditions as well as renaming your favorite cards and giving them upgrades using stickers. Create entirely new cards using the Mega Mutant Power Magazine. But be careful, these decisions are permanent.
GET SCRAPPY: Adventure throughout the school to unravel the strange occurances at Dudsdale Elementary. Take on quests to earn cards, stickers, and candy which you can collect and trade with your classmates. Careful, there's no backsies!
YOU CAN'T COLLECT 'EM ALL: In the end, your decks and rules will be unique to you. Stickers are rare, choices matter, and sometimes you'll have to make a tough decision to get the best cards.
THE 1990's: Through its totally rad, choice-driven, interactive narrative, Cardpocalypse delivers the experience of being a 90's kid. Boo-ya!
Required Configuration
Windows - Minimum
OS: Windows 7
Processor: Intel Core2 Duo 2.4GHz or equivalent
Memory: 4 GB RAM
Graphics: Intel HD Graphics 5000 or better
Storage: 500 MB available space
Cardpocalypse ® is a registered trademark of Gambrinous Limited LTD. Copyright © Gambrinous Limited LTD 2020 All Rights Reserved. Versus Evil ® and the Versus Evil ® logo are trademarks, service marks, or registered trademarks or service marks of Versus Evil LLC. All other works, trademarks, and service marks appearing in this work are the property of their respective owners.
Required configuration
Windows - Minimum
OS: Windows 7
Processor: Intel Core2 Duo 2.4GHz or equivalent
Memory: 4 GB RAM
Graphics: Intel HD Graphics 5000 or better
Storage: 500 MB available space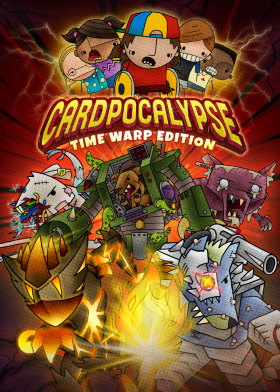 Language:

English

Genre:

Platform:

Win 7 32/64 bits Win 8.1 32/64 bits Win 10 32/64 bits

Number of players:

1

Release date:

2020-10-09

Publisher