Ka Kuro Master
ABOUT THE GAME
---
Kakuro requires a blend of logic, strategy and a keen mind to solve the myriad of mathematical combinations that each new puzzle creates.
It's just like a crossword - but with numbers!
Ka Kuro Master
is the ultimate Kakuro product! It provides you with unlimited puzzles, 4 challenging skill levels, multiple grid sizes and 20 different schemes to match your mood. With this inexhaustible supply of puzzles, Ka Kuro Master provides truly limitless game play on your PC & laptop - and as you can quickly print puzzles to take with you - its also idea for commuting, holidays or simply relaxing in your favourite chair!
KEY FEATURES
---
Built-in Puzzle Generator provides unlimited Kakuro puzzles
Four challenging skill levels to choose from - Beginner, Normal, Hard or Really Hard!
4 Grid Sizes - Small (6x6), Medium (10x10), Large (14x14), Very Large (18x18)
20 Different schemes to suit your mood, including 60's, camouflage, fresco, hills, kittens, splats and many more
Combination Calculator - displays possible solutions to questions
Game Markers - remembers your last correct move
Go back facility - undo your last moves as much as you wish
Require assistance at any point? Hints button can help you on your way
A pleasure to play - simply use your mouse to drag & drop your choices
Onboard Timer to record your best performance, plus a countdown timer mode to try and beat the clock
High Score Table
Pencil Marks - Auto-generated or user placed notes
Toggle Sounds on/off
Panic button (hides the game - no getting in trouble with the boss!)
Pause, save and restart any puzzle
Full Install - no need to run from CD
Print & Go - perfect for commuting, trips away and the lunch break!
eMail puzzles to work, family and friends
Clear instructions on how to play - and tips on becoming a Kakuro Master!
The fun doesn't stop here - extra schemes can be downloaded over the internet!
Crammed full of great game play, superb fun, tough challenge – but also great for those that are just wanting to start
SYSTEM REQUIREMENTS
---
OS: Windows98/ME/2000/XP/Vista/7/8/10
Processor: 500MHz
RAM: 128Mb
Gfx: SVGA card
Hard disk: 15 Mb
Required configuration
Windows™98/ME/2000/XP/Vista
Processor: 500MHz
RAM: 128Mb
Gfx: SVGA card
Harddisk:15 Mb
Soundcard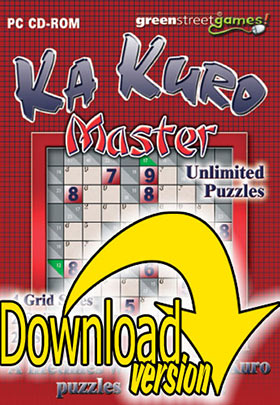 Language:

English

Genre:

Platform:

Vista Win XP Win 7 32/64 bits Win 8 32/64 bits Win 8.1 32/64 bits Win 10 32/64 bits Win 2000 Win 98 Win Me

Publisher