The Quarry - Deluxe Edition
NOTICE: Activation key must be used on a valid Steam account. Requires internet connection.
Deluxe Edition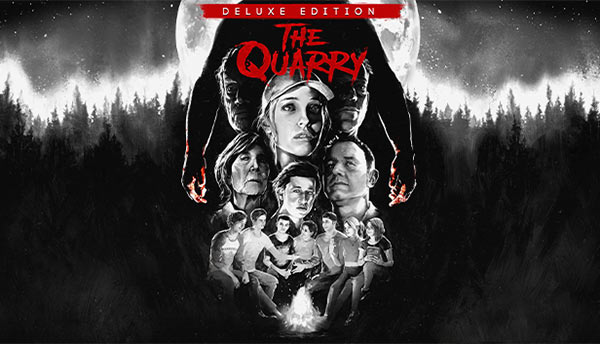 Enjoy some extra teen horror flair with The Quarry - Deluxe Edition!
This Edition includes:
The Quarry Full Game
Deluxe Bonus Content Pack: '80s-themed character outfits (available post-launch, see below), instant access to the Death Rewind system, Gorefest Movie Mode option, and Horror History Visual Filter Pack
Note: The '80s-themed character outfits will be automatically delivered in-game on or by 7/8/2022
About The Game
As the sun sets on the last day of summer camp, the teenage counselors of Hackett's Quarry throw a party to celebrate. No kids. No adults. No rules.
Things quickly take a turn for the worse.
Hunted by blood-drenched locals and something far more sinister, the teens' party plans unravel into an unpredictable night of horror. Friendly banter and flirtations give way to life-or-death decisions, as relationships build or break under the strain of unimaginable choices.
Play as each of the nine camp counselors in a thrilling cinematic tale, where every decision shapes your unique story from a tangled web of possibilities. Any character can be the star of the show—or die before daylight comes.
How will your story unfold?
Key features
YOUR STORY, THEIR FATE
Will you dare to check what's behind that trap door? Will you investigate the screams echoing from within the forest? Will you save your friends or desperately run for your life? Every choice, big or small, shapes your story and determines who lives to tell the tale.
A STUNNING CINEMATIC EXPERIENCE
Cutting edge facial capture and filmic lighting techniques, combined with incredible performances from an iconic ensemble cast of Hollywood talent, bring the horrors of Hackett's Quarry to life in a pulse-pounding, cinematic thrill ride.
ENJOY THE FRIGHT WITH FRIENDS
Place your faith in up to 7 friends in online play*, where invited players watch along and vote on key decisions, creating a story shaped by the whole group! Or, play together in a party horror couch co-op experience where each player picks a counselor and controls their actions.
CUSTOMIZE YOUR EXPERIENCE
Adjustable difficulty for all gameplay elements let players of any skill level enjoy the horror. And if you prefer to watch rather than play, Movie Mode lets you enjoy The Quarry as a binge-worthy cinematic thriller. Select how you want the story to unfold, kick back, and munch on some popcorn in between all the screams!
STARRING:
David Arquette as Chris
Ariel Winter as Abigail
Brenda Song as Kaitlyn
Evan Evagora as Nick
Halston Sage as Emma
Justice Smith as Ryan
Miles Robbins as Dylan
Siobhan Williams as Laura
Skyler Gisondo as Max
Zach Tinker as Jacob
Ethan Suplee as Bobby
Grace Zabriskie as Eliza
Lance Henriksen as Jedediah
Lin Shaye as Constance
Ted Raimi as Travis
*Online multiplayer functionality will be available post-launch on or by July 8, 2022.
System Requirements
Windows - Minimum
Requires a 64-bit processor and operating system
OS: Windows 10 64-bit
Processor: AMD FX-8350 \ Intel i5-3570
Memory: 8 GB RAM
Graphics: Nvidia GTX 780 / Radeon RX 470
Storage: 50 GB available space
Windows - Recommended
Requires a 64-bit processor and operating system
OS: Windows 10 64-bit
Processor: AMD Ryzen 7-3800XT \ Intel i9-10900K
Memory: 16 GB RAM
Graphics: Nvidia RTX 2060 / Radeon RX 5700
Storage: 50 GB available space
© Supermassive Games 2022. Published and distributed by 2K. Supermassive and the Supermassive Software logos are registered trademarks, and The Quarry and the The Quarry logos are trademarks, of Supermassive Games, LLC. All rights reserved. 2K and the 2K logo are trademarks of Take-Two Interactive Software, Inc. All rights reserved. The Quarry uses Powered by Wwise © 2006-2022 Audiokinetic Inc. Unreal® is a trademark or registered trademark of the Epic Games, Inc. in the United States of America and elsewhere. Unreal® Engine, Copyright 1998 - 2022, Epic Games, Inc. All rights reserved. The BIK Software developed by Anomotion Interactive Inc. was used in connection with the licensed software. Copyright (c) 2022 Anomotion Interactive Inc. All rights reserved. Portions of the software utilize SPEEDTREE® technology (©2022 Interactive data visualization, inc.), SPEEDTREE® is a registered trademark of interactive data visualization, Inc. ALL RIGHTS RESERVED. Portions of this program © 2020 Microsoft Azure PlayFab.
Required configuration
Windows - Minimum
Requires a 64-bit processor and operating system
OS: Windows 10 64-bit
Processor: AMD FX-8350 \ Intel i5-3570
Memory: 8 GB RAM
Graphics: Nvidia GTX 780 / Radeon RX 470
Storage: 50 GB available space
Windows - Recommended
Requires a 64-bit processor and operating system
OS: Windows 10 64-bit
Processor: AMD Ryzen 7-3800XT \ Intel i9-10900K
Memory: 16 GB RAM
Graphics: Nvidia RTX 2060 / Radeon RX 5700
Storage: 50 GB available space