New Yankee in King Arthur's Court V
NOTICE: Activation key must be used on a valid Steam account. Requires an internet connection.
About the game
Return to a world of knights and dragons, witches and goblins and swords and magic to save King Arthur from a fate worse than helmet hair!
Join Sir John and Lady Mary as they're drawn back in time to deal with the appearance of a thick forest and vaporous swamps around Arthur's castle.
As they travel across the king's vast realm to find the source of the magical scourge, they'll encounter never-before-seen obstacles (look out for landslides!), face new challenges (unicorns, dragons and witches – oh my!) and meet new foes and friends alike!
Players guide John and Mary on their journey, using strategy to determine the best use of available resources and the fastest way through each of the game's levels, all of which offer unique quests. Each step forward will unlock cunning new bonuses, provide access to thrilling mini-games and provide an opportunity to discover and earn dozens of achievements.
Features
Dozens of all-new levels
A thrilling, time-tripping story
Gorgeous artwork and animation
Collector's Edition bonus content
Learn-as-you play tutorial
system requirements
Windows - Minimum
OS: Windows XP or later
Processor: 1.5 GHz processor
RAM: 750 MB RAM
Graphics card: 512 MB VRAM
HDD: N/A GB available space
DirectX: DirectX 9.0 or later
Required configuration
Windows - Minimum
OS: Windows XP or later
Processor: 1.5 GHz processor
RAM: 750 MB RAM
Graphics card: 512 MB VRAM
HDD: N/A GB available space
DirectX: DirectX 9.0 or later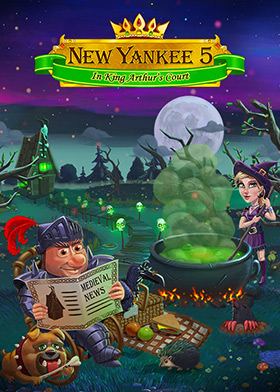 Language:

English

Genre:

Platform:

Number of players:

1

Release date:

2018-03-28

Publisher