My Time At Portia
NOTE : Activation key must be used on a valid Steam account, requires internet connection.
About the game
Start a new life in the enchanting town of Portia! Restore your Pa's neglected workshop to its former glory by fulfilling commissions, growing crops, raising animals, and befriending the quirky inhabitants of this charming post-apocalyptic land!
Armed with your Pa's old handbook and workbench, you must gather, mine and craft your way to being crowned the number one workshop in Portia. Help the locals rebuild the town and uncover the secrets locked deep away beneath it. Be prepared though…it won't be easy!
The town of Portia is full of friendly new faces for you to meet. Make friends, complete requests, exchange gifts, go on dates and let romance blossom!
Inspired by the magic of Studio Ghibli, My Time at Portia whisks you away to a world of wonder that you won't forget. How will you spend your time at Portia?
Key features
BUILD YOUR WORKSHOP: Build your Pa's derelict workshop into the best in Portia! Gather resources and craft your way into the hearts of the local community, as you work through daily commissions and villager requests.
RUN YOUR OWN FARM: Grow and nurture your own crops as you convert the empty woodland surrounding your home into a quaint little farm! My Time at Portia offers an innovative approach to farming, allowing you to take advantage of planter boxes and semi-automatic irrigation systems.
GET CREATIVE: Make your house a home! Apply your personal touch with an exciting range of craftable furniture, decorations and room upgrades!
JOIN THE COMMUNITY: Become a part of Portia's extraordinary community! Filled with a vibrant cast of unforgettable faces all with exciting stories to share, energetic personalities and individual behaviours. Make sure you take the time to get to know them all - who knows, maybe romance could be in the air?
EXPLORE AND BATTLE: Delve deep into the ancient ruins and dungeons of Portia. Mine for resources and uncover what lurks beneath the seemingly peaceful land. It's dangerous to go unprepared… Make sure you're equipped to face fearsome monsters and deadly bosses that stand between you and the secrets of Portia.
SKILL UP!: Level up your character with a variety of skills to aid you in your adventures, in true RPG fashion!
AND THEN THE REST: Portia is an enriching and vivid experience, jam-packed with activities for your enjoyment! How will you spend your time? Fancy trying your hand at cooking? You could challenge your new friends to Rock-Paper-Scissors, or for the more daring how about a little bit of sparring? Take your pick! There's also tonnes of mini-games, and festivals to enjoy. Or maybe you just want to kick-back and spend the afternoon fishing? It's up to you how you spend your time at Portia!
system requirements
Windows - Minimum
Requires a 64-bit processor and operating system
OS: Windows 7+ / 8.1 / 10 64 bit
Processor: Intel i3 Processor
Memory: 6 GB RAM
Graphics: ATI 7770, Nvidia GeForce GTX 660 2GB
DirectX: Version 10
Storage: 6 GB available space
Windows - Recommended
Requires a 64-bit processor and operating system
OS: Windows 10 64 bit
Processor: Intel i7 Processor
Memory: 16 GB RAM
Graphics: Nvidia GeForce GTX960+
DirectX: Version 11
Storage: 10 GB available space
My Time at Portia. Developed by Pathea Games. © 2019. My Time at Portia and Pathea Games are trademarks or registered trademarks of Pathea Games. Published by Team17. © 2019. Team17 is a registered trademark of Team17 Digital Limited.
Required configuration
Windows - Minimum
Requires a 64-bit processor and operating system
OS: Windows 7+ / 8.1 / 10 64 bit
Processor: Intel i3 Processor
Memory: 6 GB RAM
Graphics: ATI 7770, Nvidia GeForce GTX 660 2GB
DirectX: Version 10
Storage: 6 GB available space
Windows - Recommended
Requires a 64-bit processor and operating system
OS: Windows 10 64 bit
Processor: Intel i7 Processor
Memory: 16 GB RAM
Graphics: Nvidia GeForce GTX960+
DirectX: Version 11
Storage: 10 GB available space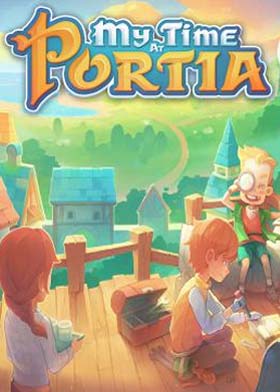 Language:

English

Genre:

Platform:

Win 7 64 bits Win 8 64 bits Win 10 64 bits

Number of players:

1

Release date:

2019-01-15

Publisher