Monster Prom: First Crush Bundle
NOTICE: Activation key must be used on a valid Steam account. Requires an internet connection.
About the game
Bold, unapologetic dating sim Monster Prom and its DLC, Second Term, come together in the series' first ever bundle, an especially enticing pack for those new to the monster smooching experience.
Features
Contains : Monster Prom + Monster Prom : Second Term
system requirements
Windows - Minimum
OS: Win 7 or higher
Processor: Anything from the last 5 years
RAM: 4 GB RAM
Graphics card: N/A
HDD: 1 GB available space
Mac - Minimum
OS: OS X
Processor: Anything from the last 5 years
RAM: 4 GB RAM
Graphics card: N/A
HDD: 1 GB available space
Linux - Minimum
OS: Ubuntu or anything that makes sense
Processor: Anything from the last 5 years
RAM: 4 GB RAM
Graphics card: N/A
HDD: 1 GB available space
Required configuration
Windows - Minimum
OS: Win 7 or higher
Processor: Anything from the last 5 years
RAM: 4 GB RAM
Graphics card: N/A
HDD: 1 GB available space
Mac - Minimum
OS: OS X
Processor: Anything from the last 5 years
RAM: 4 GB RAM
Graphics card: N/A
HDD: 1 GB available space
Linux - Minimum
OS: Ubuntu or anything that makes sense
Processor: Anything from the last 5 years
RAM: 4 GB RAM
Graphics card: N/A
HDD: 1 GB available space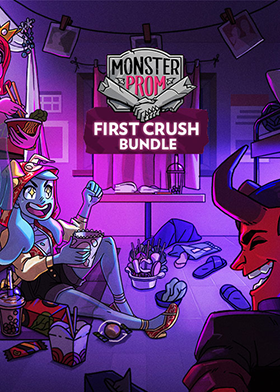 Language:

English

Genre:

Platform:

Win 7 32/64 bits Win 8 32/64 bits Win 10 32/64 bits

Linux

Mac OS X

Number of players:

1+

Release date:

2019-12-19

Publisher