Broken Sword 3 - the Sleeping Dragon
NOTICE: Activation key must be used on a valid Steam account. Requires an internet connection.
About the game
An ancient conspiracy. A broken code. An unsolved murder. Welcome to Broken Sword – The Sleeping Dragon, the multi BAFTA-nominated adventure.
Once more George and Nico must travel the world, wrestling danger, and piecing together the clues that will unravel the secrets of the Sleeping Dragon.
Powerful seismic events are shaking the world. Something sinister is emerging. An Ancient Conspiracy, the Secret of the Templars, and a fiendish source of pure Evil are responsible. The death of a back bedroom computer hacker in Paris is just the beginning of another extraordinary adventure for George Stobbart and Nico Collard. Welcome to the world of Broken Sword.
Caractéristiques
Includes breathtaking 3D graphics
A powerful and unique interface
Submerge yourself into Broken Sword universe with The Sleeping Dragon's unique visual style.
system requirements
Windows - Minimum
OS: Windows XP / Vista
Processor: Pentium 3 750 MHz or equivalent
Memory: 128 Mo of RAM RAM
Graphics: 64 Mo video.
Storage: 1 GO available space
DirectX®: DirectX 8.1
Copyright Revolution Software Ltd. Broken Sword is a trademark of Revolution Software Ltd. All Rights Reserved.
Required configuration
Windows - Minimum
OS: Windows XP / Vista
Processor: Pentium 3 750 MHz or equivalent
Memory: 128 Mo of RAM RAM
Graphics: 64 Mo video.
Storage: 1 GO available space
DirectX®: DirectX 8.1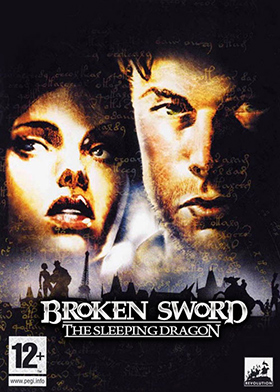 Language:

English

Genre:

Platform:

PC Vista 32/64 bits Vista 32/64 bits SP1 Win 7 32/64 bits Win 8 32/64 bits Win 8.1 32/64 bits Win 10 32/64 bits

Number of players:

1

Release date:

2003-11-12

Publisher