The Serpent Rogue
NOTICE: Activation key must be used on a valid Steam account. Requires internet connection.
About The Game
The Serpent Rogue is a botanical action-adventure game built around exploring a medieval fantasy world, mastering the art of alchemy, and taming wild creatures.
Playing as a mysterious alchemist known only as The Warden, you will craft, brew, boil & concoct potions all in your stead to protect the realm from the dreadful Serpent Rogue!
EXPLORE THE UNKNOWN
The ominous Serpent Rogue has laid down roots on Mount Morbus. Its evil is spreading quickly, and it threatens to overwhelm the realm. It is your task as the Warden to confront the Serpent Rogue and bring peace and tranquillity to the land. Explore every inch of the map, unearth secret passages, and expand your knowledge to stand against the incoming disaster.
CRAFT POTIONS & EXPERIMENT
Using your alchemy skills, craft and experiment with different ingredients to create extraordinary potions each with its own unique effects. Take on quests from the inhabitants of the cursed land and earn resources to further your exploits.
CHOOSE YOUR ACTIONS
Each action you take will create interesting sequences of cause and effect. Keep too many creatures in one place and this will attract blood-thirsty reapers. Forget to bury the perished ones and you'll start to attract corpse-eating ghouls. Hoard too many items in one location and attract plague-spreading vermin.
EVOLVE
Shapeshift into different creatures, brew potions that will alter your body, give you unique abilities and create the perfect balance between human and creature.
System Requirements
Windows - Minimum
Requires a 64-bit processor and operating system
OS: Windows 10
Processor: Intel Core i5-3470 or AMD FX-8350
Memory: 6 GB RAM
Graphics: Nvidia GeForce GTX 770, 2 GB or AMD Radeon R9 280, 3 GB
DirectX: Version 11
Storage: 4 GB available space
Windows - Recommended
Requires a 64-bit processor and operating system
OS: Windows 10
Processor: Intel Core i7-4770 or Ryzen 5 1500X
Memory: 8 GB RAM
Graphics: Nvidia GeForce GTX 1650, 4 GB or AMD Radeon R9 Fury,
Storage: 4 GB available space
THE SERPENT ROGUE © 2021 SENGI GAMES, PUBLISHED UNDER LICENCE BY TEAM17 DIGITAL LIMITED. TEAM17 IS A REGISTERED TRADEMARK OF TEAM17 DIGITAL LIMITED. ALL OTHER TRADEMARKS, COPYRIGHTS AND LOGOS ARE PROPERTY OF THEIR RESPECTIVE OWNERS.
Required configuration
Windows - Minimum
Requires a 64-bit processor and operating system
OS: Windows 10
Processor: Intel Core i5-3470 or AMD FX-8350
Memory: 6 GB RAM
Graphics: Nvidia GeForce GTX 770, 2 GB or AMD Radeon R9 280, 3 GB
DirectX: Version 11
Storage: 4 GB available space
Windows - Recommended
Requires a 64-bit processor and operating system
OS: Windows 10
Processor: Intel Core i7-4770 or Ryzen 5 1500X
Memory: 8 GB RAM
Graphics: Nvidia GeForce GTX 1650, 4 GB or AMD Radeon R9 Fury,
Storage: 4 GB available space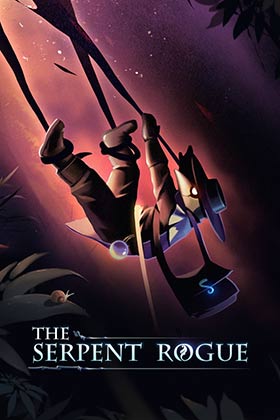 Language:

English

Genre:

Platform:

Win 11 64 bits Win 10 64 bits

Number of players:

1

Release date:

2022-04-26

Publisher