Scribblenauts Unmasked: A DC Comics Adventures
NOTICE: Activation key must be used on a valid Steam account. Requires internet connection.
About the game
In Scribblenauts Unmasked: A DC Comics Adventure, Maxwell unites with Batman™, Superman™ and the rest of The Justice League™ to restore order to the DC Comics Universe.
Challenge your imagination as you battle the mightiest villains in an exciting, action-filled adventure through GOTHAM CITY™, METROPOLIS™, ATLANTIS™ and other iconic locales from the DC Comics Universe. Bring out your inner super hero (or villain!) with the all-new Hero Creator by crafting completely original objects out of parts of existing DC Comics characters. Then assign unique properties to your creations and use them to solve puzzles, or share them online with friends – which they can use in game or further modify as they like.
Key Features
The DC Comics Universe: Summon thousands of your favorite DC Comics characters and objects - all drawn in the unique Scribblenauts art style!


Heroic Feats: Enjoy addictive replayability with new, dynamic puzzles that continuously generate different missions every time you play it.


The Hero Creator: Create, edit and share your own personalized super hero or villain by using parts of existing objects from the expansive DC Comics universe. How will your Wonder Joker stack up against your friend's Bat Bain?


Introducing the Batcomputer: Need help looking for that perfect object to summon? Reference the in-game encyclopedia that lists the names and description of every object from the DC Comics universe.

System Requirements

Windows - Minimum

OS: Windows XP or higher
Processor: AMD Atholon 64 X2 Dual-Core 4000+ or better
Memory: 2 GB RAM
Graphics: ATI X1800 or better
DirectX®: 9.0c
Hard Drive: 2 GB HD space
Sound: Direct 9.0c

Windows - Recommended

OS: Windows XP or higher
Processor: Intel Core 2 Duo Processor 2.0GHz or better
Memory: 2 GB RAM
Graphics: nVidia 7800 or better
DirectX®: 9.0c
Hard Drive: 2 GB HD space
Sound: Direct 9.0c

SCRIBBLENAUTS UNMASKED: A DC Comics Adventure software© 2013 Warner Bros. Entertainment Inc. Developed by 5th Cell Media LLC. All other trademarks and copyrights are the property of their respective owners. All rights reserved.

DC LOGO, and all characters, their distinctive likenesses, and related elements are trademarks of DC Comics © 2013. SCRIBBLENAUTS and all related characters and elements are trademarks of and © Warner Bros. Entertainment Inc. WB GAMES LOGO, WB SHIELD: ™ & © Warner Bros. Entertainment Inc. (s13)
Required configuration
Windows - Minimum
OS: Windows XP or higher
Processor: AMD Atholon 64 X2 Dual-Core 4000+ or better
Memory: 2 GB RAM
Graphics: ATI X1800 or better
DirectX®: 9.0c
Hard Drive: 2 GB HD space
Sound: Direct 9.0c
Windows - Recommended
OS: Windows XP or higher
Processor: Intel Core 2 Duo Processor 2.0GHz or better
Memory: 2 GB RAM
Graphics: nVidia 7800 or better
DirectX®: 9.0c
Hard Drive: 2 GB HD space
Sound: Direct 9.0c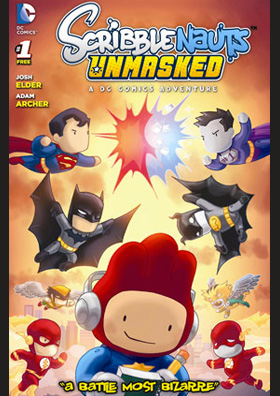 Language:

English

Genre:

Platform:

Vista Win XP Win 7 32/64 bits Win 8 32/64 bits

Number of players:

1+

Release date:

2013-09-24

Publisher