Magicka Collection
NOTICE: Activation key must be used on a valid Steam account. Requires internet connection.
ABOUT THE GAME
---
Magicka Collection includes:
Magicka
Magicka Vietnam
Magicka Wizard Survival Kit
Magicka Caverns and Marshlands
Magicka Nippon
Magicka Final Frontier
Magicka Frozen Lake
Magicka Watch Tower
Magicka Robe Bundle
Don the robes of an elemental wizard of a sacred order, and stop an evil sorcerer who has thrown the world into turmoil.
Ah yes... we can't have turmoil now, can we? Play solo or join forces with up to three friends, and save the world and all its undeserving villagers from certain doom!
KEY FEATURES
---
Team up with your friends against the forces of evil

with up to four-player co-op in all game modes
or explore the expansive world in single-player mode

Test your skills in the magickal arts with an innovative spell casting system
Fight your way through 13 challenging levels
Find and unlock challenges, items, and powerful Magicks
Laugh along with this tongue-in-cheek parody of fantasy world clichés
SYSTEM REQUIREMENTS
---
Operating system: Windows XP/Vista/Windows 7
Processor: Intel Pentium IV 2.4 GHz or AMD 3500+
Memory: 2 GB RAM
Hard disk space: 2 GB Available HDD Space
Video: NVIDIA GeForce 8800 or ATI Radeon X1900. Integrated Graphics (laptops) are not supported
Sound: DirectX-compatible sound card
DirectX®: DirectX 9.c
3-button mouse, keyboard, or Xbox 360 Controller for Windows
Internet connection for multiplayer
Offline Multiplayer: up to 4 controllers
Online Multiplayer: DSL internet connection or faster
---
© 2011 Paradox Interactive. All rights reserved.
Required configuration
System requirements :
Operating system: Windows XP/Vista/Windows 7
Processor: Intel Pentium IV 2.4 GHz or AMD 3500+
Memory: 2 GB RAM
Hard disk space: 2 GB Available HDD Space
Video: NVIDIA GeForce 8800 or ATI Radeon X1900. Integrated Graphics (laptops) are not supported
Sound: DirectX-compatible sound card
DirectX®: DirectX 9.c
3-button mouse, keyboard, or Xbox 360 Controller for Windows
Internet connection for multiplayer
Offline Multiplayer: up to 4 controllers
Online Multiplayer: DSL internet connection or faster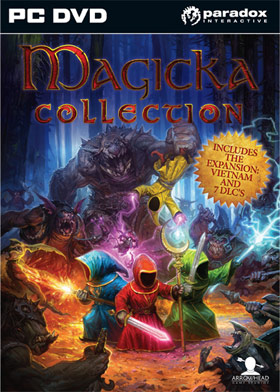 Language:

English

Genre:

Platform:

Vista Win XP Win 7 32/64 bits Win 7 32 bits Win 8 32/64 bits Win 8 32 bits

Number of players:

1 - 4

Release date:

2011-11-22

Publisher