Mad Max
NOTICE: Activation key must be used on a valid Steam account. Requires internet connection.
About the game
Play as Mad Max, a lone warrior who embarks on a dangerous journey after his Interceptor is stolen by a deadly gang of marauders lead by the warlord, Scabrous Scrotus.
A reluctant hero with an instinct for survival, Max wants nothing more than to leave the madness behind and find solace in the storied "Plains of Silence".
Key Features
Build the Ultimate Car
Without your Interceptor, you are nothing. Embark on a dangerous journey to rebuild your key to salvation
Brutalize your enemies in high-speed, inter-vehicular warfare using the ultimate combat vehicle
Build your perfect war-machine with thousands of mods to customize performance, armor and weaponry
Be the Legendary Post-apocalyptic Warrior
Build your legend by upgrading Max's stats, gear, and abilities
Raid enemy encampments to gain access to precious resources and powerful upgrades
Kill or be killed by combining stealth, gun, and melee combat to take out your relentless enemies
Tame the primal Wasteland
Traverse and discover a haunting post-apocalyptic world with dynamic weather, treacherous landscapes, and sadistic marauder factions that create threatening situations around every corner
Freedom to do whatever you want, whenever you want. The Wasteland is vast and filled with dangerous side missions, activities and encounters ranging from ambushes to hijacking fuel caravans
System Requirements
Windows - Minimum:
OS: 64 bit: Vista, Win 7, Win 8
Processor: Intel Core i5-650, 3.2 GHz or AMD Phenom II X4 965, 3.4 Ghz
Memory: 6 GB RAM
Graphics: NVIDIA GeForce GTX 660ti (2 GB Memory or higher) or AMD Radeon HD 7870 (2 GB Memory or higher)
DirectX: Version 11
Hard Drive: 32 GB available space
Mad Max © 2015 Warner Bros. Entertainment Inc. Developed by Avalanche Studios. All other trademarks and copyrights are the property of their respective owners. All rights reserved.
Mad Max and all related elements are trademarks of and © Warner Bros. Entertainment Inc.
WB GAMES LOGO, WB SHIELD: ™ & © Warner Bros. Entertainment Inc.(s15)
Required configuration
Windows - Minimum:
OS: 64 bit: Vista, Win 7, Win 8
Processor: Intel Core i5-650, 3.2 GHz or AMD Phenom II X4 965, 3.4 Ghz
Memory: 6 GB RAM
Graphics: NVIDIA GeForce GTX 660ti (2 GB Memory or higher) or AMD Radeon HD 7870 (2 GB Memory or higher)
DirectX: Version 11
Hard Drive: 32 GB available space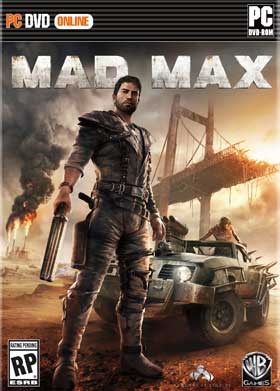 Language:

English

Genre:

Platform:

Win 7 32/64 bits Win 8 32/64 bits

Number of players:

1

Release date:

2015-09-01

Publisher