HELLDIVERS Dive Harder Edition
NOTICE: Activation key must be used on a valid Steam account. Requires internet connection.
About The Game
HELLDIVERS™ is a hardcore, cooperative, twin stick shooter. As part of the elite unit called the HELLDIVERS, players must work together to protect SUPER EARTH and defeat the enemies of mankind in an intense intergalactic war.
Key Features
HELLDIVERS™ Dive Harder Edition is a free upgrade for all existing owners and include:
A NEW GAME MODE: "Proving Grounds". Take on challenging missions with unique modifiers.
NEW loadout system with random- and favorite-loadout options
All previous expansions (A New Hell, Masters of the Galaxy, Turning Up The Heat and Democracy Strikes Back).
Up to 4 player local and online co-op on STEAM.
Full friendly fire - "accidentally" kill your friends, again and agaain.
Direct the full might of the military with a wide variety of Support Stratagems.
Community-driven galactic campaign.
A universe of worlds to liberate.
100+ hours of gameplay
System Requirements
Windows - Minimum
OS: Windows Vista / Windows 7
Processor: 2.4GHz Dual Core
Memory: 4 GB RAM
Graphics: 512 MB NVIDIA GeForce 9800 / ATI Radeon HD 2600 XT
DirectX: Version 10
Storage: 7 GB available space
Windows - Recommended
OS: Windows Vista / Windows 7
Processor: 2.4GHz Dual Core
Memory: 4 GB RAM
Graphics: 1 GB NVIDIA 460 / AMD Radeon 5870
DirectX: Version 10
Network: Broadband Internet connection
Storage: 7 GB available space
HEALTH WARNINGS
WARNING: IF YOU HAVE A HISTORY OF EPILEPSY OR SEIZURES, CONSULT A DOCTOR BEFORE USE. CERTAIN PATTERNS MAY TRIGGER SEIZURES WITH NO PRIOR HISTORY. BEFORE USING AND FOR MORE DETAILS, SEE IMPORTANT HEALTH AND SAFETY WARNINGS https://www.playstation.com/en-us/legal/health-warning/
PRIVACY POLICY
https://www.playstation.com/en-us/legal/terms-of-use/op-privacy-policy/
USER AGREEMENT
Software subject to license https://www.playstation.com/legal/op-eula/
©2015 Sony Interactive Entertainment LLC. HELLDIVERS is a trademark of Sony Interactive Entertainment LLC.
Required configuration
Windows - Minimum
OS: Windows Vista / Windows 7
Processor: 2.4GHz Dual Core
Memory: 4 GB RAM
Graphics: 512 MB NVIDIA GeForce 9800 / ATI Radeon HD 2600 XT
DirectX: Version 10
Storage: 7 GB available space
Windows - Recommended
OS: Windows Vista / Windows 7
Processor: 2.4GHz Dual Core
Memory: 4 GB RAM
Graphics: 1 GB NVIDIA 460 / AMD Radeon 5870
DirectX: Version 10
Network: Broadband Internet connection
Storage: 7 GB available space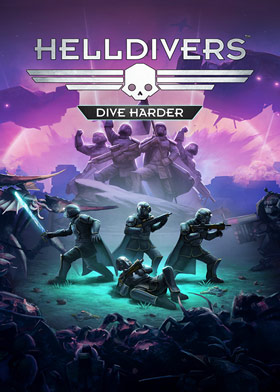 Language:

English

Genre:

Platform:

Vista 32/64 bits Win 7 32/64 bits Win 10 32/64 bits

Number of players:

1+

Release date:

2015-12-07

Publisher