Ethan Meteor Hunter
ABOUT THE GAME
---
Ethan: Meteor Hunter mixes puzzles and platformers core action mechanics to a new level with an innovative, telekinetic mechanic: Ethan can pause time and move objects around in order to solve puzzles and get though levels with dynamic use of physics giving multiple gameplay and solving possibilities!
In Ethan: Meteor Hunter, players assume the role of Ethan, an adventurous rodent, searching for the meteor fragments through more than 50 levels in 3 worlds.
The game is easy to play but hard to master: we've made the game thinking of gamers who just want to have a nice 20 minutes play after day-work and of the hardcore ones of you who want to get all of the fragments, extra hard challenges and secret bonuses… Speedrunners should also be very pleased!
KEY FEATURES
---
A rat size adventure: players have the opportunity to be Ethan and interact with his rodent-sized world which was turned upside down by a meteor rain.


Telekinetic gameplay: Ethan: Meteor Hunter will incorporate advanced telekinetic feature which allows players to move blocks in the environment to create a path and clear his way through more than 50 levels in 3 worlds. The telekinetic mechanic also pauses time and changes the way the game is played to create advantageous situations for Ethan, or get him out of a tight spot.


Diverse array of objects: the player has access to a wide array of objects including wooden blocks (that burn when they reach fire), metal blocks (which is conductive), air vents (which makes Ethan hover), and even revealing blocks (that will help Ethan to see hidden platforms).


Non linear gameplay: Ethan: Meteor Hunter is full of challenges and the time-attack, fragment collection or minimum number of pause goals is set in each level to make them unique and playable as much as you want to get the perfect run!


Anyone can play it: from the casual player that just want to have a nice 20 minutes play after day- work to the most hardcore ones who aim at getting all the fragments, the best time, get 100% of the achievements or find all the secret bonuses.
SYSTEM REQUIREMENTS
---
Operating system: Windows XP SP3
Processor: 2Ghz
RAM: 2GB
Hard drive space: 900MB
Graphics: dedicated graphic card with 256MB
Required configuration
Operating system: Windows XP SP3
Processor: 2Ghz
RAM: 2GB
Hard drive space: 900MB
Graphics: dedicated graphic card with 256MB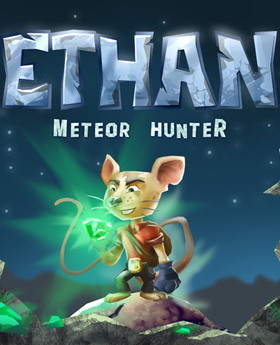 Language:

English

Genre:

Platform:

Number of players:

1

Release date:

2013-10-22

Publisher