Crash Landing
NOTICE: Activation key must be used on a valid Steam account. Requires internet connection.
About The Game
You are the only survivor. Your ship crashed. You don´t know where, you don´t know why. As a security officer of mining starship ISS Ravada, it is your job to find out what happened to your ship. Stranded on a planet that doesn´t exist and attacked by alien creatures never seen before, you find secrets that no one was suppose to see. But as you move deeper into the unknown place and discover ruins of a long lost civilization and its last memories, you realize that your crash was no accident and you are in greater danger than you ever thought.
Crash Landing is simple top-down shooter game set in a sci-fi world, following in the footsteps of games like Alien Breed or Shadowgrounds. Multiple enemies, different weapons, changing environments, little more focus on the story, all is designed to keep the game fun and interesting.
Fight your way through hordes of enemies, explore, create weapons and follow the story in this little top-down shooter game.
Required Configuration
Windows - Minimum
OS: Windows Vista
Processor: AMD Athlon X2 6500 or equivalent
Memory: 2 GB RAM
Graphics: NVIDIA GeForce GT 720 or equivalent
Storage: 5 GB available space
Required configuration
Windows - Minimum
OS: Windows Vista
Processor: AMD Athlon X2 6500 or equivalent
Memory: 2 GB RAM
Graphics: NVIDIA GeForce GT 720 or equivalent
Storage: 5 GB available space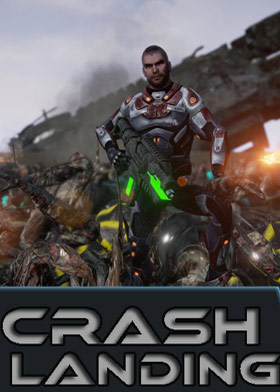 Language:

English

Genre:

Platform:

Number of players:

1

Release date:

2016-02-04

Publisher