Conflicks - Revolutionary Space Battles
NOTICE: Activation key must be used on a valid Steam account, requires internet connection.
ABOUT THE GAME
---
Spaceships, lasers, and… chickens! What more could you ask for?
Conflicks: Revolutionary Space Battles
is a creative new take on space-themed videogames that merges the deep, thoughtful gameplay of real-time strategy with the intuitive accessibility of physics-based games.
The game universe is a futuristic alternate history of the European Renaissance that combines elements from the 16th, 17th and 18th centuries with science fiction and an oddball sense of humor into a stylized, absurdist world that never takes itself too seriously. Conflicks can be played in a single-player campaign mode where missions are linked together by a story, as well as in multiplayer skirmishes.
Pledge your allegiance to Greater-Britain, the Celestial Empire, the Sacred Alliance or the Sublime Gate and harvest metamatter in the name of your emperor, or join the Chk'Rathii and lead the Revolution against those poultry-hoarding galactic despots!
KEY FEATURES
---
Original game mechanics based on the principle of flicking. Easy to learn, hard to master!



Play 4 different factions with dozens of ships, each with its own unique powers!



Play solo and immerse yourself in an epic campaign unveiling a rich and captivating story!



Play with your Steam friends in free-for-all or team matches and fight in fierce conflicts in the eternal war to control metamatter!



Show your panache and compete against the best admirals of the galaxy in a competitive multiplayer mode complete with leaderboards!



Upgrade your ships' special powers by accumulating Steam Achievements!
Stay tuned on the development of Conflicks – Revolutionary Space Battles by visiting our web site @ http://www.artificestudio.com and our facebook page @ http://www.facebook.com/artificestudio. You can also follow us on Twitter @ArtificeStudio!
SYSTEM REQUIREMENTS
---
OS: Windows 7 (or later)
Processor: 2.0 Ghz Dual Core
Memory: 4 GB RAM
Graphics: 512 MB video card (Shader Model 3.0 or higher)
DirectX: Version 9.0c
Network: Broadband Internet connection
Hard Drive: 4 GB available space
Sound Card: DirectX-compatible sound card
MacOS and Linux support coming soon!
Required configuration
OS: Windows 7 (or later)
Processor: 2.0 Ghz Dual Core
Memory: 4 GB RAM
Graphics: 512 MB video card (Shader Model 3.0 or higher)
DirectX: Version 9.0c
Network: Broadband Internet connection
Hard Drive: 4 GB available space
Sound Card: DirectX-compatible sound card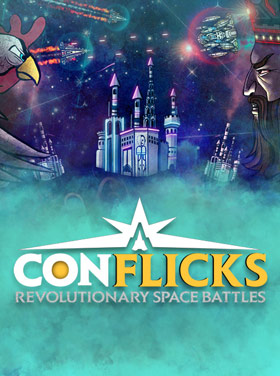 Language:

English

Genre:

Platform:

Win 7 32/64 bits Win 8 32/64 bits Win 8.1 32/64 bits Win 10 32 bits Win 10 64 bits

Number of players:

1+

Release date:

2015-11-05

Publisher