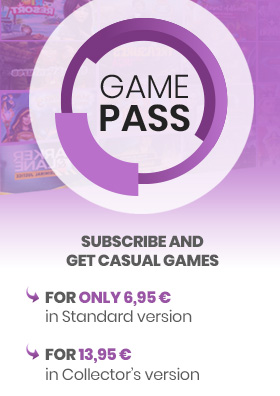 Game Pass
How does it work?
For just € 6.95 a month, and no obligations, you can access the whole catalogue of casual games at exceptional prices and all the extra benefits...
Earn 1 token every month

Every month, you can earn and collect tokens:

1 token= 1 Standard Version Game
2 tokens= 1 Collector Version Game

30% minimum off all games

Automatically get a 30% discount on the entire relaxation game catalogue
One free token! Receive an extra token every 6 months

Sign up free with no obligations

Subscribe in just a few clicks, and no obligations. Unsubscribe easily online 24/7 from your game account
How can I get this offer?
1 - Add the Game Pass to your basket
2 - Complete your order. Your Game Pass is now activated!
3 - You can now benefit from a 30% discount on the whole Casual Game catalogue!