Blood Bowl 2 - Nurgle DLC
NOTICE: Requires the base game Blood Bowl 2 in order to play. Activation key must be used on a valid Steam account. Requires internet connection.
About the game
The teams of Nurgle come with their Rotters, Pestigors, Nurgle Warriors and Beasts. They are joined by Nurgle legendary star-player: Lord Borak the Despoiler.
Nurgle teams are a form of Chaos team, whose players worship the god Nurgle - the Chaos god of corruption and disease. He rewards his players by granting them a rather unpleasant disease known as "Nurgle's Rot". If anyone gets close enough to get a sniff, they'll contract one of Nurgle's nasty diseases and usually die before anyone can suggest a new personal hygiene regime.
As with most Chaos teams, the Nurgle team is at its best when it can get stuck in and directly take on opposing players. What it has in strength and toughness, the Nurgle team lacks in agility. Nurgle Warriors have a lousy Agility value and Move rate, and do not make good ball bearers. With such a terrible average Move rate, these worshippers of the Chaos god Nurgle could find themselves being beaten not just by the opposing side, but also the clock!
System Requirements
Windows - Minimum
OS*: WINDOWS VISTA/WINDOWS 7/WINDOWS 8
PROCESSOR: AMD/INTEL DUAL-CORE 2.5 GHZ
RAM MEMORY: 3072 MB
GRAPHICS CARD: 768 MB 100% DIRECTX 10 AND SHADERS 4.0 COMPATIBLE
ATI RADEON HD 5670/NVIDIA GEFORCE GTX 260 OR HIGHER
DVD-ROM: 2X DRIVE
HARD DISK SPACE: 8 GB
SOUND CARD: DIRECTX COMPATIBLE
INTERNET CONNECTION REQUIRED FOR THE GAME ACTIVATION
*WINDOWS XP NON SUPPORTED
Blood Bowl 2 © Copyright Games Workshop Limited 2016. Blood Bowl 2, Blood Bowl 2 logo, Blood Bowl, the Blood Bowl logo, GW, Games Workshop, Warhammer, and all associated logos, illustrations, images, names, creatures, races, vehicles, locations, weapons, characters, and the distinctive likeness thereof, are either ® or TM, and/or © Games Workshop Limited, variably registered around the world, and used under licence. Used under license. All Right Reserved.
Required configuration
Windows - Minimum
OS*: WINDOWS VISTA/WINDOWS 7/WINDOWS 8
PROCESSOR: AMD/INTEL DUAL-CORE 2.5 GHZ
RAM MEMORY: 3072 MB
GRAPHICS CARD: 768 MB 100% DIRECTX 10 AND SHADERS 4.0 COMPATIBLE
ATI RADEON HD 5670/NVIDIA GEFORCE GTX 260 OR HIGHER
DVD-ROM: 2X DRIVE
HARD DISK SPACE: 8 GB
SOUND CARD: DIRECTX COMPATIBLE
INTERNET CONNECTION REQUIRED FOR THE GAME ACTIVATION
*WINDOWS XP NON SUPPORTED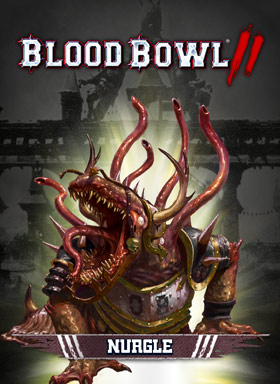 Language:

English

Genre:

Platform:

Vista Win 7 32/64 bits Win 8 32/64 bits

Number of players:

1+

Release date:

2016-11-22

Publisher