Power & Revolution 2019 Edition Add-on (Mac)
Power & Revolution 2019 Edition Add-on (Mac)
NOTICE: Requires the base game Power & Revolution 2019 in order to play.
This version is not compatible with Steam.
About the game
The Planet is Being Threatened!
The entire world is on the brink of collapse: global warming, social unrest, rising populism, the risk of global conflict, overpopulation, terrorism, cybercrime, new war zones, pollution, shortages! As the leader of up to 30 nations simultaneously, attempt to implement cohesive and effective policies that will collectively guarantee a viable future for the planet. And in another new play mode, "Chaos 2030", experience the world that could exist in the near future if things break down: amid the global chaos, develop solutions to maintain your power and grow your influence...
New Content for the 2019 Edition
Simulations of major global threats
The Geopolitical Simulator 2019 Edition simulates all the major perils that threaten the planet and produces a comprehensive assessment for each one from the results along with specific graphics. The list of threats is substantial and many of them are interconnected: global warming, the widening of social inequality, the risk of global atomic war, overpopulation, unemployment, atmospheric pollution, terrorism, cybercrime, regional conflicts, food insecurity, world hunger, deforestation, natural disasters (storms, floods, drought, extreme heat...), rising sea levels, ocean acidity, disappearance of animal species, climate refugees, epidemics, endocrine-disrupting chemicals...
Global Warming
One specific scenario, "Global Warming", based on the goals of the IPCC (Intergovernmental Panel on Climate Change), has the objective of limiting global warming to 1.5° Celsius for 2100, and to reduce CO2 emissions by 45% by the year 2030. As the head of the 30 largest CO2 emitters, initiate a global energetic transition by pursuing policies on infrastructures (dismantling of thermal power industries, constructing power plants with renewable energies…), finance (taxes on petroleum products, carbon tax...), the environment, innovations (CO2 capture, development of electric vehicles…)… and all while avoiding energy shortages and maintaining a balanced budget as well as social stability!
Chaos 2030
In this futuristic and dystopic game mode, nations have turned inward and have opted for more radical governments, some of whom have gained access to nuclear weapons. Relations between these states are strained, are sources of conflict and key international organizations have been dissolved. The fight against global warming has failed: temperature curves are showing a rise of 7° in 2100 and serious consequences are being felt. With an unprecedented economic crisis and a growth in social inequality, people are on edge, political upheavals are increasing and terrorist organizations are growing on this fertile ground of instability.
New legislations and features
Implementation of a "Digital Tax" on the online giants.
Fighting for women's rights with a sufficient and comprehensive budget (combating sexual violence, educational policy on gender equality...) and specific laws (harassment on the street, abolition of male-dominated mentoring, fighting female circumcision…)
Possibility of taking over and governing a conquered country
Legislation on motorway tolls
Play up to 30 nations simultaneously in the same game
The possibility of a tax on cannabis if it is legalized and its economic sector is opened
Carbon tax (on CO2 emissions)
Establishment of the legal age for consuming alcohol
Active defense mode for missile-launcher units and destroyers that can automatically bomb enemy units entering a protected zone (allowing you to establish lines of defense)
Distinguishing missile launcher movements from missile trajectories for all missile launchers
Management of the electric car and self-driving vehicle industry
The possibility of dismantling infrastructures on the map
Closing and re-opening of nuclear power plants
New technology: self-driving cars, hyperloop train (at more than 1000 km/h, constructible on the map), CO2 capture plants, high-density batteries, third generation nuclear power plant (EPR) ; and the addition of progress levels for scientific research.
Simulation of electricity shortages
Quantification of illegal economic sectors (drugs)
Proliferation of riots in the region
New displays, new comparative maps: global warming temperature curves up to the year 2100; social inequality; malnourished populations; terrorist threats; deaths due to drug use; environmental maps including forested areas, deforestation, organically cultivated areas; maps related to women's rights (salary equality, practice of female circumcision).
Game option of whether or not to include actual historic results in calculating election results.
New achievements.
Various gameplay adjustments and bug corrections
Up to date data as of 01/01/2019
Budgetary, economic and social data…
Political and geopolitical data: new governments, constitutions of new parliaments, diplomatic relations between countries...
Addition of a second chamber in Brazil (Senate).
Environmental data.
Military data and maps of conflicts, ongoing city battles and status of opposing forces.
Terrorist organizations: numbers, capabilities, resources.
Designating high speed train lines and motorways.
New characters with new faces: new chiefs of state or governments (Brazil, Italy, Spain, Hungary, Pakistan, Mexico...), new ministers and party leaders (USA, France, Germany...), international celebrities engaged in feminist causes and a new Iraqi flag.
system requirements
Mac - Minimum
OS: MACOSX 10.7 or higher
Processor: 1.6 Ghz
Memory: 4 GB RAM
Storage: 7 GB available space
Mac - Recommended
OS: MACOSX 10.7 or higher
Processor: 2 Ghz , multi-core processor
Memory: 8 GB RAM
Storage: 7 GB available space
Required configuration
Mac - Minimum
OS: MACOSX 10.7 or higher
Processor: 1.6 Ghz
Memory: 4 GB RAM
Storage: 7 GB available space
Mac - Recommended
OS: MACOSX 10.7 or higher
Processor: 2 Ghz , multi-core processor
Memory: 8 GB RAM
Storage: 7 GB available space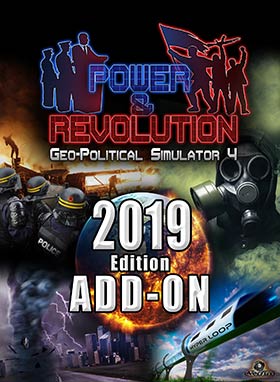 Language:

English

Genre:

Platform:

Number of players:

1

Release date:

2019-07-25

Publisher