Wanda - A Beautiful Apocalypse
Wanda - A Beautiful Apocalypse
NOTICE: Activation key must be used on a valid Steam account, requires internet connection.
ABOUT THE GAME
---
Wanda
is a short and simple story about two lonely robots in a desolate, ruined world. Unlike many other 'end-of-the-world' games, Wanda is not about a tale of desperate survival but about finding companionship, love and hope in a wasteland.
Wanda is a story-focused game but completely free of comprehensible dialogue. The entire story is told through the subtle interactions between the two robots and the environment itself in a "show, don't tell" style.
Join this little adventure, solve mini-puzzles and witness the story unfold. Experience a whole new perspective of a post apocalyptic world through art-style reminiscent of a children's book and delightful soundtracks.
KEY FEATURES
---
Subtle 'show; don't tell' storytelling


Art style reminiscent of a children's storybook


Beautiful and atmospheric soundtrack


Steam Achievements


Partial controller support
SYSTEM REQUIREMENTS
---
Windows XP/Vista/7/10
Intel® Pentium® 4 2.0 GHz equivalent or faster processor
512 MB Memeory
400 MB Disc Space
DirectSound-compatible sound card
Required configuration
Windows XP/Vista/7/10
Intel® Pentium® 4 2.0 GHz equivalent or faster processor
512 MB Memeory
400 MB Disc Space
DirectSound-compatible sound card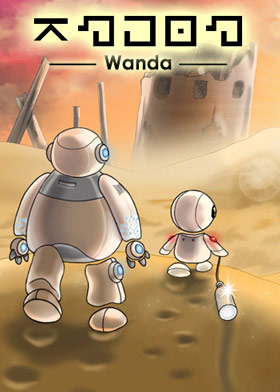 Language:

English

Genre:

Platform:

Vista Win XP Win 7 32/64 bits Win 8 32/64 bits Win 8.1 32/64 bits WIN 10 32 bits WIN 10 64 bits

Number of players:

1

Release date:

2016-05-20

Publisher