The Outer Worlds Expansion Pass (Steam)
The Outer Worlds Expansion Pass (Steam)
NOTICE: Requires the base game The Outer Worlds on the same platform in order to play. Activation key must be used on a valid Steam account. Requires internet connection.
About the game
The Outer Worlds Expansion Pass includes two story expansions bundled at a discount. Experience mysterious new conflicts, intriguing quests, strange new locations, outlandish weapons, devious characters, and additional ways to aid or defy the Board of Halcyon in two new narrative expansions for the darkly-humorous, critically-acclaimed, and award-winning sci-fi RPG from Obsidian Entertainment and Private Division.
The Outer Worlds: Peril on Gorgon is coming on September 9th, 2020. Investigate the dark secrets of one of the most ambitious scientific undertakings in Halcyon: the development and synthesis of Adrena-Time, a drug intended to improve the productivity of workers across the colony.
The Outer Worlds: Murder on Eridanos. Venture to the skies of Eridanos and unravel the grandest murder mystery in the Halcyon colony! Everyone is a suspect in this peculiar whodunit after Rizzo's hired spokesperson, the famous Halcyon Helen, winds up dead.
A copy of The Outer Worlds on the same platform is required to play expansion pass content. All content for The Outer Worlds Expansion Pass will be available in the first half of 2021.
system requirements
Windows - Minimum
OS: Windows 7 (SP1) 64bit
CPU: Intel Core i3-3225 or AMD Phenom II X6 1100T
RAM: 4GB
GPU: Nvidia GTX 650 Ti or AMD HD 7850
HDD Space: 40GB
Windows - Recommended
OS: Windows 10 64bit
CPU: Intel Core i7-7700K or Ryzen 5 1600
RAM: 8GB
GPU: GeForce GTX 1060 6GB or Radeon RX 470
HDD Space: 40GB
© 2021 Obsidian Entertainment, Inc. Obsidian Entertainment and the Obsidian Entertainment logo are trademarks or registered trademarks of Obsidian Entertainment, Inc. The Outer Worlds and The Outer Worlds logos are trademarks or registered trademarks of Obsidian Entertainment, Inc. Private Division and the Private Division logo are trademarks of Take-Two Interactive Software, Inc. The ratings icon is a trademark of the Entertainment Software Association. All other marks and trademarks are the property of their respective owners. All rights reserved.
Use of this product requires agreement to the following third party end user license agreement: http://www.take2games.com/eula/
Required configuration
Windows - Minimum
OS: Windows 7 (SP1) 64bit
CPU: Intel Core i3-3225 or AMD Phenom II X6 1100T
RAM: 4GB
GPU: Nvidia GTX 650 Ti or AMD HD 7850
HDD Space: 40GB
Windows - Recommended
OS: Windows 10 64bit
CPU: Intel Core i7-7700K or Ryzen 5 1600
RAM: 8GB
GPU: GeForce GTX 1060 6GB or Radeon RX 470
HDD Space: 40GB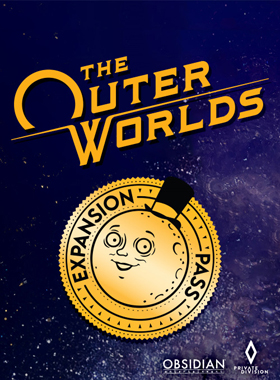 Language:

English

Genre:

Platform:

Win 7 64 bits Win 10 64 bits

Number of players:

1

Release date:

2020-10-23

Publisher