King Arthur Collection
This great bundle contains:
King Arthur (base game)
Saxons (expansion)
Druids (expansion)
Knight & Vassals (DLC)
Legendary Artifacts (DLC)
Welcome to the lost age of chivalry, a time of magic and myth where you must rule the land as one of the era's living legends: Arthur, the son of UtherPendragon, and the Once and Future King spoken of in prophecy.
Fulfil your destiny and claim your rightful place on the throne of Britannia. Send your heroes and their followers to battle legendary warriors and monsters, while saints and faerie folk test their mettle against wizards and evil knights.
Features
Real-time fantasy battles: Engage in spectacular fights featuring thousands of soldiers and renowned heroes, such as Sir Lancelot and Merlin
Turn-based campaign map: Britannia is represented as a three-dimensional topographic map
Create your own legend: The saga of King Arthur, an epic tale about the conquest of Britannia, is told through a story-based campaign
Morality Chart: Every decision you make in the game will influence King Arthur's position on the Morality Chart. These choices unlock special content, allies, heroes, units, and developments
RPG elements: Heroes learn skills, spells, and abilities. They can also use magic items or become liege lords, entrusted with the leadership of a province
System requirements:
Minimum system requirements:
Operating system: Windows© XP SP2/Vista/Windows 7
Processor: AMD Athlon 3500+ or Intel Pentium IV 3.4 Ghz processor
Memory: , 1GB RAM (XP) 1.5Gb RAM (Vista/7) memory
Hard disk space: 8 Gbyte
Video: Nvidia 6600 (256Mb) / ATI Radeon X700 (256Mb)
Sound: DirectX 9-compliant sound card
DirectX®: 9.0c or higher
Additional: Nvidia (AGEIA) PhysX (included in the installer)
Recommended system requirements:
Operating system: Windows© XP SP2/Vista/Windows 7
Processor: AMD X2 6000+ or Intel Core2 Duo E6600
Memory: 1.5GB RAM(XP) 2GB RAM (Vista/7) memory
Hard disk space: 8 Gbyte
Video: Nvidia 9800 GTX (512MB) AMD/ATI HD4850 (512MB)
Sound: DirectX 9-compliant sound card
DirectX®: 9.0c or higher
Additional: Nvidia (AGEIA) PhysX (included in the installer)
Required configuration
System requirements:
Minimum system requirements:
Operating system: Windows© XP SP2/Vista/Windows 7
Processor: AMD Athlon 3500+ or Intel Pentium IV 3.4 Ghz processor
Memory: , 1GB RAM (XP) 1.5Gb RAM (Vista/7) memory
Hard disk space: 8 Gbyte
Video: Nvidia 6600 (256Mb) / ATI Radeon X700 (256Mb)
Sound: DirectX 9-compliant sound card
DirectX®: 9.0c or higher
Additional: Nvidia (AGEIA) PhysX (included in the installer)
Recommended system requirements:
Operating system: Windows© XP SP2/Vista/Windows 7
Processor: AMD X2 6000+ or Intel Core2 Duo E6600
Memory: 1.5GB RAM(XP) 2GB RAM (Vista/7) memory
Hard disk space: 8 Gbyte
Video: Nvidia 9800 GTX (512MB) AMD/ATI HD4850 (512MB)
Sound: DirectX 9-compliant sound card
DirectX®: 9.0c or higher
Additional: Nvidia (AGEIA) PhysX (included in the installer)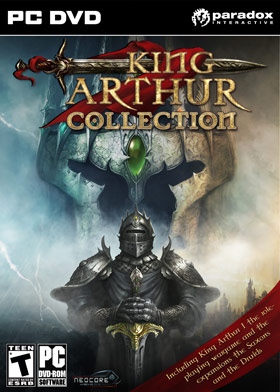 Language:

English

Genre:

Platform:

Vista Win 7 32/64 bits Win 7 32 bits Win 8 32/64 bits Win 8 32 bits Win XP SP2

Number of players:

1 - 2

Release date:

2011-05-24

Publisher